Different Types of cranes in construction and industry: A crane is a machine or device whose function is to mechanically lift certain materials or loads. 
Where more can be observed the presence of cranes is in construction sites, where the lifting of heavy loads becomes imperative.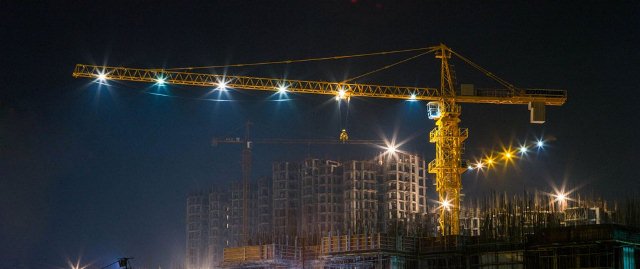 … the cranes, those machines that make the work of human beings insignificant …

Crane operator
History of Cranes
If we make a bit of history, the origins of this machine go back to the load prop .
This loading system was very much in vogue in the merchant ships, whose crew members were in charge of driving, in a constant loading and unloading process.
However, with the passage of time, the renovation of the strut became imperative, especially since it needed to be operated by a large number of individuals, which delayed the process of unloading the materials themselves.
The crane was constituted in the direct evolution of the prop used for the transfer of heavy loads.
This machine is equipped with a forklift, with ropes (usually cables) whose function is to raise and lower the respective materials, as well as moving the load by making horizontal movements.
The crane is also composed of a boom (or arm) that is mounted on an axis that performs rotating movements. In addition to this, the crane consists of one or more pulleys that lift the weight and then move it from one sector to another.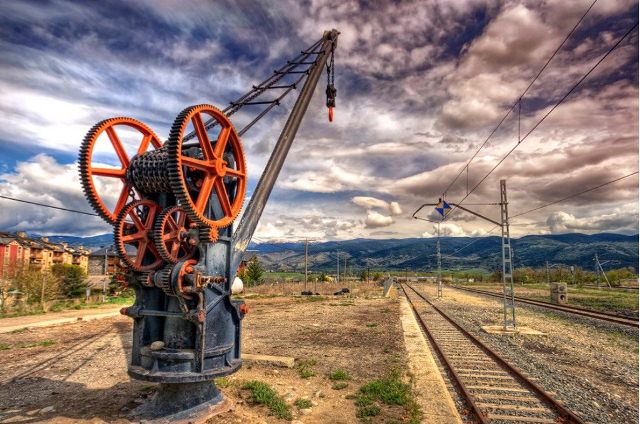 Construction Crane
The place where cranes are mostly used is at construction sites. These cranes are called, exactly, construction cranes, and are characterized by having arms that work in an articulated manner.
In the field of construction, there are different types of work and materials that require different accessories such as tweezers, pulleys, hooks or spoons.
The range of cranes for construction has infinite solutions to safely handle sand, bricks, concrete blocks and others.
Within the constructions, it is possible to operate with mobile cranes or tower cranes, which allow the work to be streamlined.
Mobile Crane
But you can also access a more elementary crane model, the so-called mobile crane. It consists of a steel frame and its arm is erected on a mobile platform (hence the name of this crane).
Said arm is operated (that is, raised or lowered, according to the needs) by cables or even hydraulic cylinders. In turn, the cable cords are operated by motors that work thanks to a huge variety of transmissions, according to the model.
That is, there may be engines whose combustion is internal or electric motors and even steam engines, also known as external combustion engines, which are responsible for translating the energy of water vapor into an entirely mechanical process.
In the case of internal combustion engines, these began to be used to replace the older transmissions of more obsolete cranes, which were the clutches.
Demolition Crane
A derivative of this type of mobile crane that concerns us is that of the demolition crane, to whose specific constitution is added a ball destined to demolish what is necessary.
This type of cranes are characterized by having a large size, but thanks to this can be used for any construction site.
Crawler crane
Some other types of mobile cranes do not require stabilizers. Caterpillar style cranes are equipped with wide caterpillars that make the crane mobile and stable. Unlike truck mounted cranes, crawler cranes cannot travel on roads and must be transported to workplaces by truck.
Hydraulic crane
They are the ideal partners for heavy daily work: hydraulic cranes have been made with appropriate size components (hoses, cylinders, distributors, heat coolers) in order to provide maximum power and speed of operation with exceptional precision.

Industrial crane
An industrial crane is ideal when you need a light and fast discharge crane for applications that require portability and production efficiency.
The typical applications of industrial cranes are manipulation of marbles, granite, construction material, pre-fabricated concrete, steel, metal structures, etc.
Feather crane: Feather -type cranes are characterized by having the ability to rise in themselves, extending along or across through different sections or sections that are linked with each other through hydraulic and/or mechanical systems. In these types of crane, there are different types of devices on which the operation of the same is based.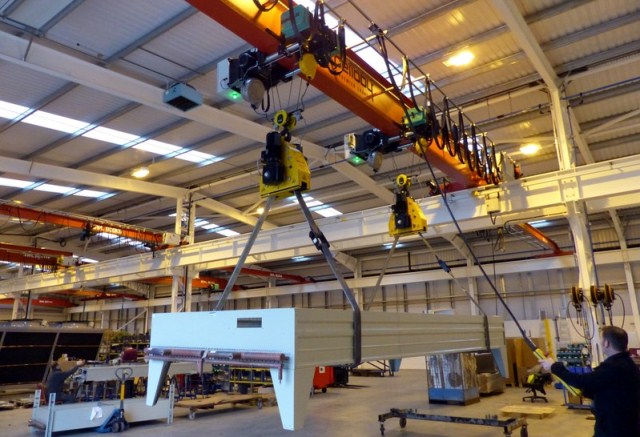 Port cranes
The ports are one of the pillars within the international commercial dynamics, formed by an infrastructure and logistics that establish the first contact for the arrival of merchandise and people to later follow their routes to other destinations.
The Panamax, Post Panamax, Ultra Containers and Super Oil tankers are all arriving at different ports that require ports with a large draft, wide measures of length and beam, which are a logistical challenge for many of the ports; being necessary multipurpose cranes, gantry cranes for containers, RTG cranes, etc.
Stackers: When very efficient management of the container terminal is required, the port cranes and stacking equipment demonstrate their technological advantages. It's precise handling, synchronized movements, and high speeds guarantee high load cycles at a low cost. Its high quality and ease of maintenance reduce downtime and increase profits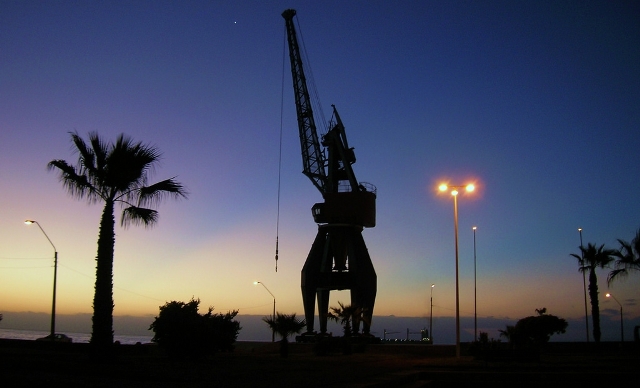 Crane Service
The rescue and towing of vehicles require different cranes depending on the needs and type of accident.
When we proceed to the rescue of heavy vehicles, we have to choose correctly the crane with which we are going to work.
the tugboat or autogrúa, that can be of two, three or four axes.
the self-propelled crane, also depending on the weight to be lifted; there are two, three, four, six and eight axes. They are used to raise the loads.
the self – loading cranes or feathers, accessories are mounted on trucks and are used to load and unload goods.
Mechanical assistance: The towing services are usually provided by a vehicle emergency operator to rescue them or move them from places where there is no way to drive them.
Rescue of a vehicle: To carry out rescue and towing of a truck, the personnel must be duly qualified, due to the difficulties involved in the procedure, since they are vehicles of a considerable mass. The veteran and the practice are essential elements so that the rescue is satisfactory and is carried out successfully; equipment, tools, and other helpful tools are also needed
Motorcycle Crane
The motorcycle crane service provides the user and his machine with the trip to his home or to a trustworthy workshop.
They are specialized and adapted vehicles, to assemble your motorcycle with all safety measures. If your motorcycle suffers a mishap and can not circulate, the crane service will take care of taking it to the workshop of your choice, at any time and in any place.
Types of Cranes
In this list, you can find the main mobile and fixed cranes, industrial and construction, port, stacker, forklift, updated of the main brands in the global market.
Tower Crane
A tower crane is a machine designed to load and unload different materials. This load is distributed through the use of a hook that remains suspended thanks to the use of a cable.
In addition, it performs its corresponding displacement on a car and has rotating support that is usually mounted on top of a vertical tower.
Telescopic crane
Telescopic cranes are another form of heavy cranes used to transport and maneuver objects from one place to another.
The telescopic crane usually has the particularity, what distinguishes them from all others of owning a pen or also called "Arrow" that inside carries more than one cylinder.
Hydraulic Crane
It is a hydraulic articulated crane ( GHA ) on a truck; machine designed to lift, transport, support, and deposit loads.
Said machine is composed of a column that rotates on a base, and a system of arms attached to the upper part of said column.
Container crane
The gantry crane or container crane is a typical heavy duty crane, widely used in ports and docks for loading and unloading shipping containers and moving the container stack in container terminals.
Overhead crane
An overhead crane is a mobile tool designed to transport cargo from one place to another, above the ground.
The displacement of the traveling cranes can be horizontal or vertical. The main function of traveling cranes is focused on the lifting and moving of all heavy loads.
Gantry crane
The gantry crane is a special type of crane that elevates the load by means of a forklift installed on a beam, which in turn is rigidly supported by two or more legs.
These legs can usually be moved on horizontal rails at ground level.
Sideload
It is a truck crane, which incorporates a side lift in the semi-trailer. Also called side load.
RTG crane
is a gantry crane on rubber tires, Rubber Tyred Gantry in English; RTG cranes are operated by onboard drivers. The main function of these cranes is to unload containers from trucks or terminal tractors and load them in the container block or vice versa.
Forklift Truck
The fork crane or forklift is a transport vehicle that can be used to transport, tow, push, stack, raise or lower different objects and elements.
They are machines that work with two weights that oppose each other on opposite sides of a turning point: the front wheels.
The main feature of this mobile medium is its capacity to support weight, which a person can not tolerate, which simplifies the movement, transfer, and order of merchandise in industrial or commercial use especially.
Crane Accessories
industrial cranes can be accompanied by hoists, these are tools that are used along with the cranes in the workshops to lift or move loads easily.
Its utility lies in the fact that it is hardly necessary to apply force to move a weight, for this reason, the hoists are usually attached to a rotating arm that is coupled to a machine or on the roof of the workshop, fulfilling different functions.
In the field of construction, usually the winch is used a lot: to facilitate the maneuvers the pulleys of the system are integrated to the structure of the crane, then you can start immediately to work and close at the end of the machine eliminating any other operation.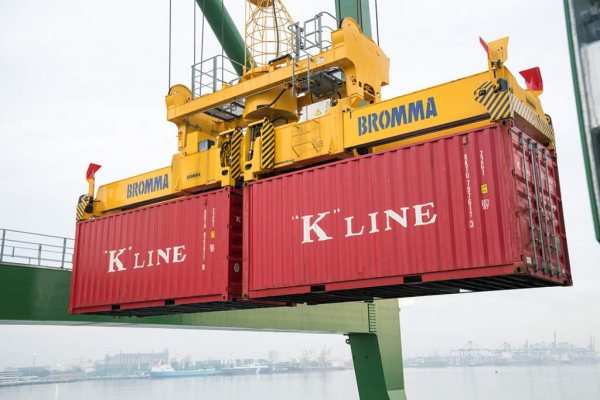 Hoist crane
What is the hoist?
The hoists or rig is a machine composed of two or more pulleys and a rope, cable or chain that alternately goes through the various throats of each of those. They allow lifting a load exerting a force less than the weight that must be moved.
How do hoists work?
The use of the pulleys minimizes the effort required to move the load. They can have different sizes or lifting powers. The small ones are manipulated manually and the bigger ones have incorporated an electric motor to make them work. Depending on the load to be loaded or unloaded there are many types of hoists. Some are electric, others use manual force or levers to exert their power with the help of chains, cables, branches, hooks, clamps, magnets and other accessories with similar characteristics.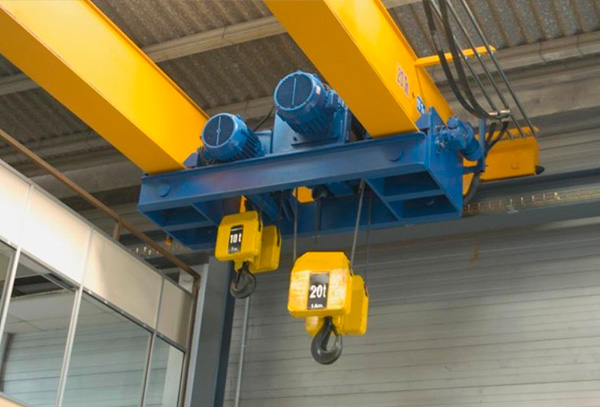 Winch crane
A winch (or more commonly called "cable") is a machine, but a very special machine, and like any other, it has to give high performance, last a lot and withstand great efforts. It is responsible for transmitting the force and movement from the drums of the crane to the load.
Different types of cranes
What are the different types of cranes?
Types of cranes: tower crane, telescopic crane, mobile crane, construction crane, hydraulic, overhead crane, gantry crane, bridge crane, jib crane.
What is an industrial crane?
Industrial cranes are materials movement machinery that use levers and pulleys to operate a long truss, or arm, that lifts, lowers, carries and relocates what cannot be moved by smaller machinery or human power. There are several different varieties of cranes, all of which are designed for use in specific settings.
What is a tower crane?
The tower crane is a fixed Crane and has to be mounted On-Site. The Tower Crane presents itself like a vertical metallic structure having a horizontal boom that can turn over an angle up to 360°. From his particular set up, the tower crane is ideal for all king of a high building or high structure Construction.
Cranes pictures

Summary
Article Name
different types of cranes
Description
... the cranes machines that make the work of human beings insignificant ... tower, telescopic, hydraulic, traveling, portico, industrial, port
Author
Publisher Name
Publisher Logo