CONSTRUCTION CRANES: crane tower, crane telescopic, hydraulic, mobile, demolition, heavy machinery, construction machinery, truck.
We often take for granted how these sometimes monumental-sized machines shape the world around us.
From a distance or from the ground, it can be quite difficult to imagine how the crane achieves what it does without overturning.
It is difficult to even understand how something so tall is built without something equally high beside it to facilitate its construction.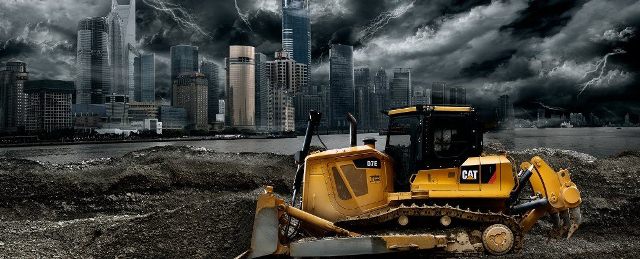 … machines are increasingly efficient and better, so it is clear that imperfection is the greatness of man …

OPERATOR CRANE
Construction Machines
Cranes are some of the most important equipment in the construction industry. Modern construction machines include fixed tower cranes, huge shipyard gantry cranes, truck-mounted cranes, and more.
The different types of cranes work in very different ways, so each construction crane adapts perfectly to the job for which it is designed.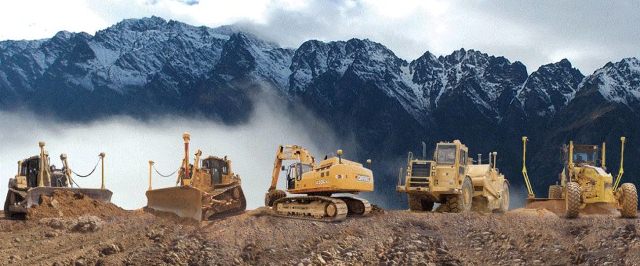 History of Construction
The history of construction involves the techniques and industry involved in the assembly and assembly of structures, mainly those used to provide housing. The construction of buildings is an ancient human activity.
It began with the purely functional need for a controlled environment to moderate the effects of climate. Shelters were built as a means by which human beings are able to adapt to a wide variety of climates and become an urban species.
The first homes were shelters, but later they took other functions, such as food storage and ceremony, which were housed in separate buildings.
Some began to have symbolic structures, as well as functional value, which marks the beginning of the distinction between architecture and construction.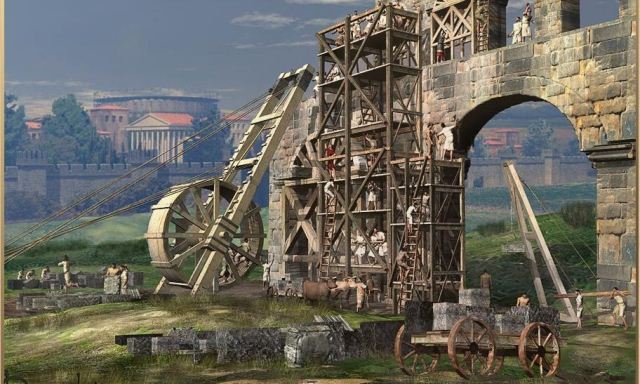 Construction Materials
The history of construction is characterized by inserting trends, models, machines and new construction materials.
One of them is the increase in the durability of the materials used.
Another is the search for buildings of greater height and more and more space, which was made possible by the development of more resistant materials and by the knowledge of how the materials behave and the way to exploit to greater advantage.
A third trend involves the degree of control exercised over the interior environment of buildings: the regulation of air temperature, light and sound levels, humidity, odors, air velocity, and humidity are increasingly controlled. other factors that affect the comfort of humans.
However, another trend is the change in the energy available for the construction process, from the muscular strength and the development towards the powerful machinery used today.
Building Materials
The current state of construction is complex. There is a wide range of construction products and systems that are aimed primarily at groups or types of market construction.
The building design process is highly organized and is based on research centers that study the properties of materials and performance, code of officials who adopt and enforce safety standards, and the design professionals who determine the needs of users and the design of a building to meet those needs.
Construction Companies
The construction process is also very organized, which includes the manufacturers of construction products and systems, the artisans who meet at the construction site, the contractors who employ and coordinate the work of the artisans, and the consultants who are They specialize in aspects such as construction management, quality control, and insurance.
Today's construction is an important part of industrial culture, a manifestation of its diversity and complexity, and a measure of its mastery of natural forces, which can produce a wide variety of environments built to meet the diverse needs of society.
Heavy Machinery
Heavy equipment refers to heavy vehicles, specially designed to carry out construction tasks
What is heavy machinery?
Construction or mining rolling stock: Automotive vehicle exclusively destined to industrial works including those of mining, construction, and conservation of works, that its technical and physical characteristics cannot pass through public or private roads open to the public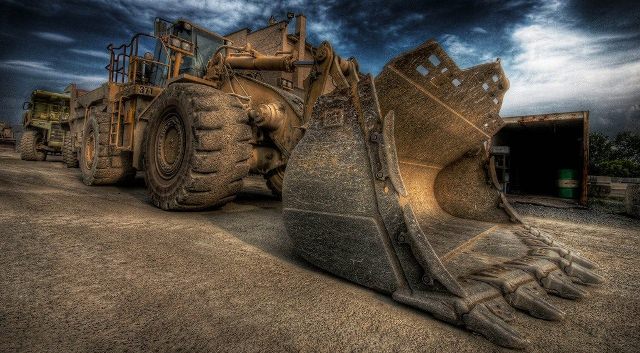 Fixed Crane
Some of the most impressive and recognizable construction cranes are tower cranes.
These giant machines can often be seen in cities, rising hundreds of meters in the air to build huge skyscrapers.
Most tower cranes have a cab mounted on a long horizontal arm, which rotates around the top of a large mast.
Like other fixed cranes, tower cranes remain in one place while working and are not designed to move.
Other types of fixed cranes include boom cranes and some gantry cranes.
The boom cranes are similar to tower cranes, with a horizontal arm that rotates on top of a vertical mast at a fixed location.
Rotating cranes are much smaller than tower cranes, but can often be used to load and unload construction materials at construction sites.
Tower Crane
The tower cranes are some of the most recognizable cranes because of its frequent use in urban construction.
Its high lattice elevations reach urban horizons, sometimes hundreds of feet in height, with long rotating lattice barriers mounted on top.
These tower cranes are used to build skyscrapers and high-rise buildings, where their height allows them to move materials from the ground to the tower quickly.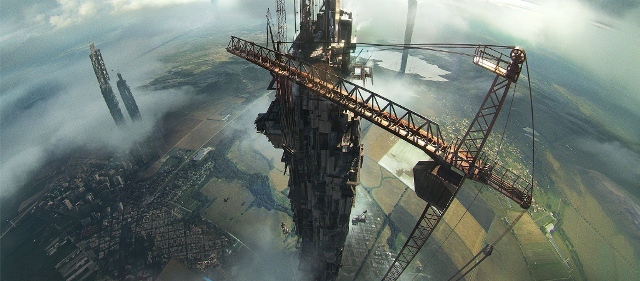 Mobile Crane
A mobile crane is defined as any assembly formed by a carrier vehicle, on wheels or on tracks, equipped with propulsion and steering systems on whose chassis an boom-type lifting device is fitted. It has hydraulic jacks or stabilizers that prevent overturning.
There are many types of mobile cranes that are also used in modern construction applications, such as truck-mounted cranes, rail cranes and overhead cranes.
Telescopic Crane
The telescopic cranes are another form of heavy cranes used to transport and maneuver objects from one place to another.
The telescopic crane usually has the particularity, what distinguishes them from all others of owning a boom or also called "Arrow" that inside carries more than one cylinder.
The telescopic cranes are mobile in the sense that they transport goods and articles in a flexible way.
In addition, as telescopic cranes are also equipped with height adjustments, when it comes to transporting and transferring goods from one place to another, the problems related to height are completely eradicated.
Heavy cranes, such as telescopic cranes, can be mounted on top of a truck and then driven to those places where goods and loads need to be moved.
The main difference between a telescopic crane and other conventional cranes is that the former has a hollow boom that contains several tubes mounted on one side and another. A hydraulic mechanism allows the movement of elongation and refraction of the beam.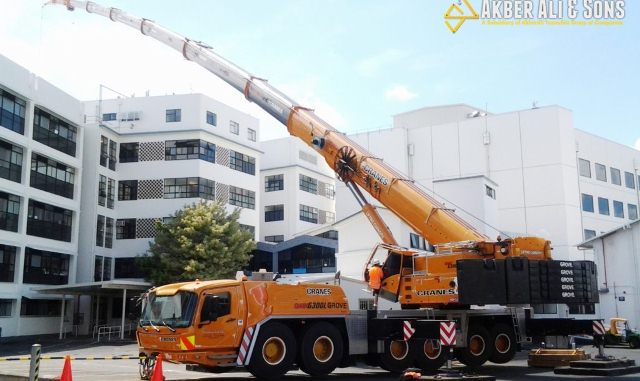 Truck Crane
Truck-mounted cranes are driven with large rubber tires and can be maneuvered around a workplace through the self-propelled; come in some variations, such as all-terrain cranes and caterpillar cranes
This type of crane also requires horizontal stabilizers for stability when lifting, and unstable rigging can cause catastrophic results.
Boom truck
It is a hydraulic articulated truck crane, also known as a hydraulic crane; machine designed to lift, transport, support and deposit loads.
Said machine is composed of a column that rotates on a base, and a system of arms attached to the upper part of said column.
The base is mounted on the truck, which also has stabilizers that help the supporting structure connected to the vehicle to give the required stability.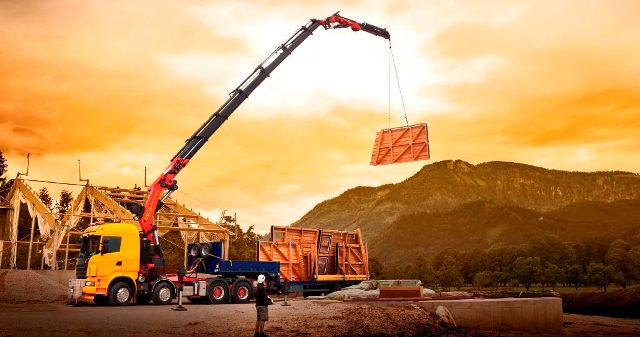 Crawler crane
Some other types of mobile cranes do not require stabilizers. Caterpillar style cranes are equipped with wide caterpillars that make the crane mobile and stable.
Unlike truck mounted cranes, crawler cranes cannot travel on roads and must be transported to workplaces by truck.
However, the all-terrain capabilities of crawler tracks make them extremely useful when construction sites are on bald or uneven terrain.
Many cranes mounted on wagons are also designed to operate without stabilizers by using counterweight mechanisms.
Caterpillar-style cranes have some of the highest lifting capacities of all construction cranes.
These cranes use long lattice bars that are often made up of multiple structural sections to lift loads of several thousand tons.
They are commonly used in large construction projects to lift and move huge components and structures.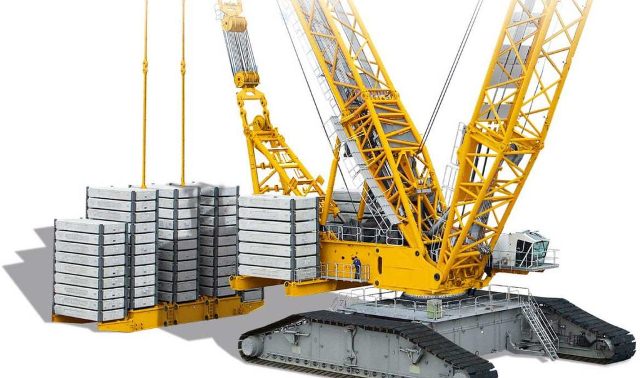 Yellow Machinery
Why are these machines usually yellow? Not only backhoes but all … why?
After investigating it, we found the answer: they are yellow for two reasons.
First, to be able to see them from afar
Second, to symbolize caution
Just as the yellow light warns you to be careful or the judge takes a yellow card to a player when it is on the verge of being expelled, the yellow of the construction machines does the same with passers-by, other drivers and, more importantly, His work partners.

Backhoe Loader
Excavator shovel is a self-propelled machine, on tires or tracks, with a structure capable of turning at least 360º
Caterpillar machines are ideal for difficult situations in the workplace. Its large footprint provides a large area of ​​support to the ground that is ideal for traveling on unfinished paths or trails, especially in sandy soil conditions.
Backhoes must be transported in trucks and assembled on site. The smaller crawler-mounted cranes can be loaded onto a fully assembled truck (excluding the boom).
The largest mobile cranes available today are crawler mounted. These giants (1,000 tons and more) are mounted on tracks because no other type of conveyor would provide a sufficient or economical deadweight weight distribution to the ground.
These large cranes are not very maneuverable and require a lot of time to assemble and transport them.
Rail Crane
Rail cranes generally consist of a rotating crane body mounted on a large wagon, and can often be used for the construction or repair of railways.
Railway cranes consist of a rotating crane body mounted on a large car and are designed to operate without stabilizers by a counterweight mechanism.
Cranes mounted on railway wagons are used more frequently for cargo handling, road maintenance and recovery from derailments and other accidents.
Tractor Crane
Cranes for rough terrain are a compact type of truck-mounted cranes with large rubber tires that allow them to navigate rough terrain in a workplace.
Unlike most truck mounted cranes, these cranes generally cannot travel on roads. However, with four-wheel drive and four-wheel steering, they are more suitable for workplaces with uneven terrain and little open space.
Construction Equipment
Equipment in this category typically finds multi-purpose application for various construction activities.
Some of the construction equipment used are road rollers, concrete equipment, mixers, hot plant mixers, stone crushers, compactors, pavers, pneumatic tire rollers (PTR), dumpers, tippers, trailers, and others. Compactors account for the majority of the market share of road construction equipment.
There are two main types of compactors:
Tandem Vibratory Rollers (TVR) and soil compactors. These are used for compaction of asphalt and soil respectively primarily in road construction
Heavy equipment is essential for construction jobs of almost any size, from home building to large-scale commercial and civil projects. Earth-moving equipment covers a broad range of machines that can excavate and grade soil and rock, along with other jobs. Earth movers and other heavy equipment help to speed not only earthwork but also materials handling, demolition, and construction. Many types of heavy construction equipment are designed for multiple functions, making them indispensable on job sites.
Tower Cranes
Pavers
Compactors
Telehandlers
Feller Bunchers
Dump Trucks
Pile Boring Machine
Pile Driving Machine
Excavators
Backhoe
Dragline Excavator
Bulldozers
Graders
Wheel Tractor Scraper
Trenchers
Loaders
Crane operator
Heavy machinery operator job. Main functions: Below, the most common functions of a Heavy Machinery Operator:
Perform previous checks on the handling of the equipment and ensure that the corresponding maintenance is performed (cleaning, lubrication, filling of fuel, etc.)
Locate underground services, such as wiring or pipes, before beginning any construction work.
Install equipment or components of machinery or attached structures.
Communicate to the Site Managers about any maintenance or repair that may be necessary, preparing written reports for this purpose.
What is considered heavy machinery?
What is considered heavy machinery?
Heavy equipment refers to heavy-duty vehicles, specially designed for executing construction tasks, most frequently ones involving earthwork operations. They are also known as heavy machines, heavy trucks, construction equipment, engineering equipment, heavy vehicles, or heavy hydraulics.
Why is construction equipment yellow?
The primary reason is yellow is considered to be cautious. Usually yellow and res color represents the alertness and dangerous. since the equipment used in construction sites are heavy and dangerous so they use this color for equipment. Many accidents in constructions took place due to these heavy moving vehicles.
How tower cranes are built?
Tower cranes arrive at the construction site on 10 to 12 tractor-trailer rigs. The crew uses a mobile crane to assemble the jib and the machinery section, and places these horizontal members on a 40-foot (12-m) mast that consists of two mast sections. The mobile crane then adds the counterweights.
How much do tower crane operators make?
Before beginning official work, one to two years of formal training may be required. A Crane or Tower Operator will usually earn a wage of around 40000 and 60000 based on education and experience. Crane and Tower Operators usually receive an average pay level of Fifty Thousand One Hundred dollars on a yearly basis
What is yellow equipment?
Yellow goods are material for construction and earth moving equipment, quarrying equipment, and fork lift trucks. The term is also used to encompass agricultural equipment, such as tractors.
More on this story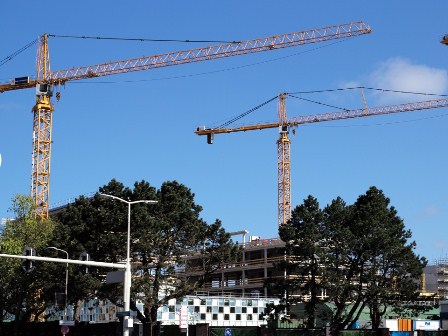 Tower Crane Installation: assembly and disassembly of a crane construction tower of buildings and housing, maneuvers, crane operator, transport, maintenance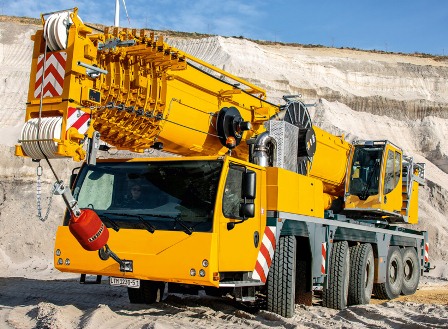 Mobile Crane Parts: How does it work? types of industrial cranes, mobile, mobile, fixed, hoist, pulleys, hook. Chassis camion, Crane rotating mechanism
The most read
.
.
.
.
Summary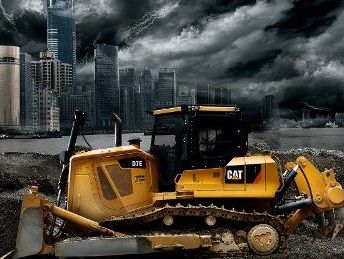 Article Name
Description
Construction Crane: crane tower, telescopic crane, hydraulic, mobile, caterpillar crane, machinery and heavy machinery, parts, rent, price, materials.
Author
Publisher Name
Publisher Logo