The Mini Excavator delivers high performance in a compact design to help you work in the tightest applications.
The Mini Excavator features the following:
Fingertip control for the boom swing and auxiliary hydraulic functions makes operation easier while providing more room on the floor for the operator's feet.
Compact Radius Design lets you work within confined areas. The radius of the upper body stays within 100 mm (4 in) of the undercarriage so the operator can concentrate on the work being done without having to worry about the back of the machine.
High digging forces, fast cycle times, and excellent stability boost your productivity.
Over 200 degrees of bucket rotation provides greater material retention during truck loading and easier flat wall digging without having to reposition the machine.
100% pilot controls and a load sensing hydraulic system
How much weight will a mini excavator Lift?
Your mini excavator should have access to machine lift charts to help make this determination.
mini excavator lift capacity chart
Standard features
Security System: A standard anti-theft device uses a 5 digit alphanumeric password that is required to start the machine (when the security system is enabled).
Adjustable Work Tool Auxiliary Flow Control: Simple adjustability of the hydraulic flow going down the boom and stick to the work tool. This is done by a simple selection from a flow of 1-15.
Continuous Flow: Set the auxiliary flow in any direction and at any speed simply, safely, and easily on the right-hand joystick.
Economy Mode: Save up to 20% fuel while maintaining high productivity with a push of a button.
More on this story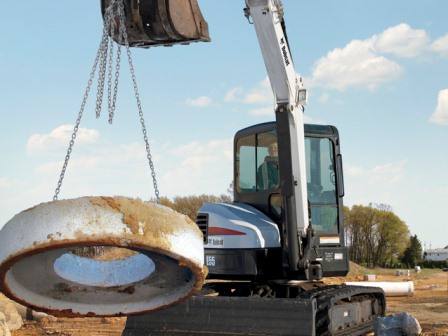 The use of excavators for lifting operations, particularly on construction sites, has become more common over the last few years.