Forklift models
Forklift models: how does it work? maneuvers, operator, loading and unloading, brands and models, types, parts, counterweight, manual, electrical, accidents and safety.
The forklift is a transport vehicle that can be used to transport, tow, push, stack, raise or lower different objects and elements.
They are machinery that work with two weights that oppose each other on opposite sides of a turning point: the front wheels.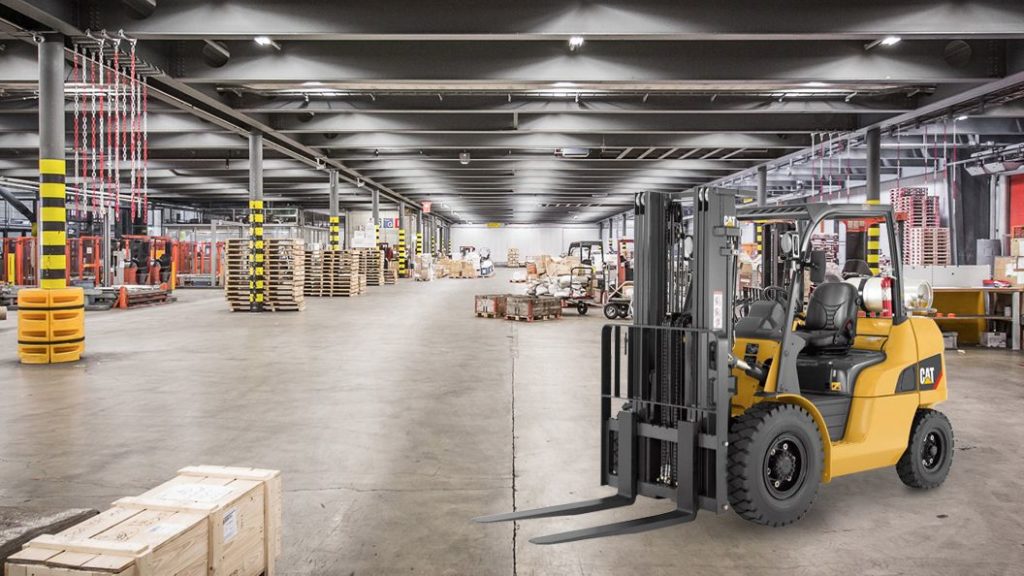 … The man accepts without problems that a machine runs more than him. But, he will hardly accept, that he thinks better than he…

CRANE OPERATOR
Forklift Truck
The main feature of this mobile medium is its capacity to support weight, which a person can not tolerate, which simplifies the movement, transfer, and order of merchandise in industrial or commercial use especially.
The load it carries is balanced by a center of gravity that swings in all directions.
This center of gravity determines its stability.
The tolerance of overweight saves in addition to energy and time, money and hours of work.
Forklifts are commonly used in shops and industries. It requires training for its management and knowledge of safety regulations.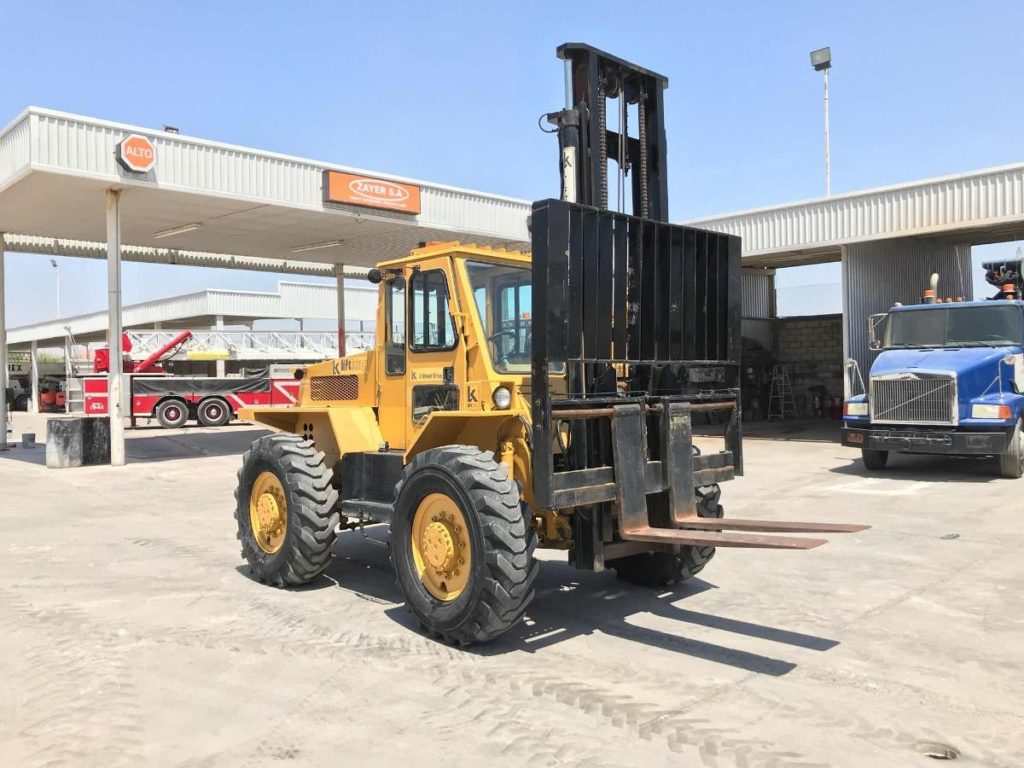 Forklift truck names
Names in different countries:
Forklift – United States
Carretilla elevadora and Montacargas – Spain
Chariot élévateur – France
Montacargas – Latin America
Gabelstapler – Germany
Forklift truck safety
Some basic safety rules to consider are:
plan the route in advance
keep the load low
park in safe places
Verify the status of the load permanently
avoid sudden movements
notice if there are pedestrians
To handle a transport mobile of this type requires some technical skill.
There are companies that offer as part of the acquisition of a forklift a training course in the management and maintenance for the operator and driver of the machinery, which must be updated and renewed every certain period of time.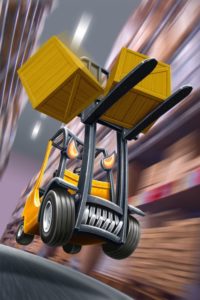 How to handle forklift
In general, training consists of providing basic knowledge about the procedure and the operations that must be carried out with the vehicle purchased in particular, given that these procedures vary with each forklift model.
Safety regulations for forklift truck
It is important to take into account the current knowledge of mobile safety standards, as well as the conditions of the worksite and safety standards in the area where the mobile will operate.
At the same time, the practice of using the forklift, as well as the location of the load, are items that the crane operator should not miss.
Forklifts, in general, are tall and narrow, and they overturn easily, that's why their operators must drive with caution.
The two small wheels are the ones with the brakes, so they do not stop quickly.
It is important to be aware that the correct use of safety procedures and standards in the use of these machines will minimize the risks of accidents and injuries in the workplace.
Forklift handling
Statistics show that approximately 100 workers die each year in accidents linked to transport machinery in accidents related to rollovers, speeding, especially when turning or taking turns due to the imbalance of the machines.
The best way to avoid this type of accident is to respect the rules of safety and good use.
It is necessary to carry out periodic controls to the machines and to preserve the good conditions for their safe handling.
Carry out inspections of the brakes, the steering, the load forks, the chain, the tires, the counterweight, control levers, etc.
Inspections must be carried out daily and in cases of very continuous use, inspections should be carried out every shift change.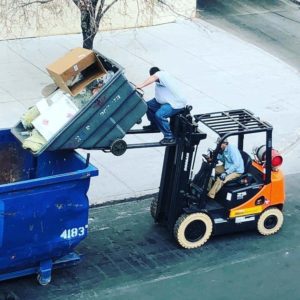 Forklift truck models
There are a variety of models in the market. Designed to lift and transport a wide range of loads, in and out of the forks.
With different options regarding the width and length of the pliers
Different construction materials
Different types of propulsion.
With options for wheels nylon, rubber wheel, and PU wheels.
The parking brake can be chosen as a special option.
There are three, four wheels, solid or with tires
The position of the operator can also vary.
There is also a whole range of internal combustion, electric hoists of all kinds, attachments and special equipment.
Companies offer different alternatives in order to provide a solution tailored to their needs.
When choosing a company you should look for experience, technical support, availability of spare parts, constant training, advice, warranty, and service.
Forklift models warehouse
Forklifts truck types:
Due to the different types of hoists and applications, it can be used in any type of activity, industry or commerce, that involves the handling of loads.
Counterbalance forklift
There are different alternatives for counterbalanced electrical equipment to cover your needs in material handling in manufacturing, storage, refrigerators, bottling, shipping-reception, and other multiple applications.
Electric Stacker
Electrical for narrow aisles: The models designed for narrow aisles make it possible to transport them in places of difficult access, minimizing time and taking advantage of time and money.
Telescopic Handler Forklifts
The stickers are high performance, and very functional, are designed to work indoors even in smaller areas. For loading and unloading. Different models can be found: manuals: 1.5 Ton Capacity, 1.6 Mts Lifting, Half Electric: 1.5 Tons Capacity, 3.0 m Lifting, Electrical: 3.0 Tons Capacity, 3.0 m Lifting
Stacking lifts
The stacking lifts are the ideal equipment to work on platforms, making the tasks of loading and/or unloading trailers, trucks or containers much more efficient, in addition to expediting the transfer of materials from one area to another, ensuring productive days in less time.
Hydraulic skate
The special length of the pliers is 800, 900, 950, 1000, 1100, 1500, 2000, 2500, 3000mm available for different capacities from 1000kg to 3500kg.
forklift brands and models
Toyota forklift
Hyster forklift
Clark forklift
Yale forklift
Nissan forklift
Caterpillar forklift
Komatsu forklift
Mitsubishi forklift
Internal combustion engine
A solid tire with combustion material Gas, LPG, Double combustion or Diesel
A semi-solid tire with LPG / Diesel combustion material, the resistance of 11,000-16,500 Lbs. (5,000-7,500 Kg)
Forklift truck parts
We are very sure that you have ever seen a forklift or forklift, it is small machinery that serves to move and/or lift heavy loads (from about 1000 to 2500kg) with great ease and most importantly: with great versatility.
Next we are going to review the main pieces and how a forklift works.
FORKS: There are two and they are located longitudinally, horizontally and parallel to each other. They will allow us to take the load underneath, generally from the side holes of the pallets.
FORKS CARRIER: It is the one that gives the disposition and rigidity to the nails. It has a vertical movement in case you need to define a position to take (or leave) the load somewhere.
DRIVE WHEELS: For greater versatility, the steering rests on the rear wheels; they facilitate the driving and the process of collecting the pallets.
COUNTERWEIGHT: Located in the lower rear part of the unit, we will mark the load limits since trying to load something greater than this weight would result in a frontal rollover of the entire forklift.
MAST: It is the continuation of the trolley. It has a vertical orientation and is to continue raising or lowering the load.
CAB ENCLOSURE: Space where the operator has all the controls of both the motor (to move) and the lifting part.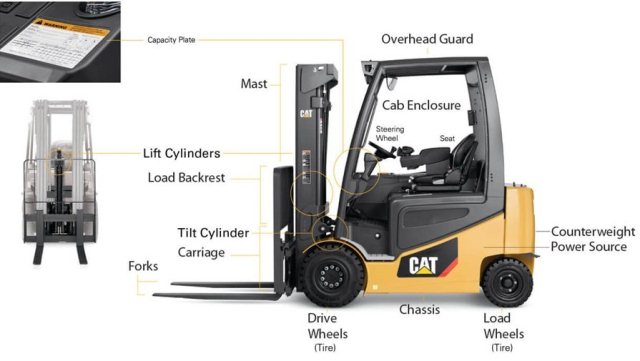 Electric forklifts
They avoid noise pollution since they do not produce noise. Its use makes it possible to dispense with fuel, which in addition to avoiding CO2 emissions also saves oil, a limited raw material. They help to reduce the greenhouse effect and the contamination of spare parts and brassware.
Battery: Lithium-ion batteries are the best in the market. Thousands of companies in Europe have implemented them improving their efficiency not only economically, but also in time and infrastructure.
Forklift Operator
What does a forklift do?
The Forklift is a lifting device used to transport material.
It is a vehicle that has a counterweight in the back, which through forks (or nails) can lower, upload and move all kinds of loads, usually located on wooden pallets.
In some countries, they are also known as forklifts. They are widely used in industrial plants for the transfer, loading, and unloading of merchandise.
Forklift brands
Manufacturers and models:
Special thanks to Material Handling & Logistics for its top 10 forklift manufacturers on the 2018 list.
All of the following manufacturers appear in the list, from the most income in 2017 to the least:
Ranker surveyed more than 1,000 voters to rank the best forklift brands in the market.
According to the results of your survey (registered on July 16, 2018), the 10 most beloved forklift brands are:
Toyota
Linde Material Handling (part of the KION group)
Caterpillar (partnered with Mitsubishi to form Mitsubishi Caterpillar Forklift America)
Hyster-Yale Materials Handling Inc. (Yale also appears in number 10 separately)
Bobcat Company (Highly valued, but its products are designed for outdoor work)
CASE (forklifts for difficult terrain)
Material handling Clark
Nissan Motor Manufacturing UK
Komatsu
AB Volvo (originally No. 11. However, their forklifts are listed on their website as archival products).
What is the difference between a reach truck and a forklift?
A reach truck, unlike a counterbalance truck, can 'reach' points beyond that of a counterbalance truck, which means they can 'reach' out into racking to load items that are out of the immediate reach of a counterbalance forklift.
What is the reach truck?
Reach trucks are designed to work in narrow aisle warehousing spaces. When lifting a load a reach truck moves the load back within the wheelbase; meaning less of the load is protruding from the reach truck, allowing the reach truck to work in much narrower aisles.
How much does a reach truck Licence cost?
In UK the forklift license cost will be determined by the course you are looking to take. So if you want to take the basic forklift course you can expect to pay around £600. Conversion courses cost will be determined by the type of truck but on average you can expect to pay around £500 to £600.
What is the most common type of forklift?
Counterbalance is the most common type of forklift.
What is a counterbalance forklift?
On counterbalance trucks, the forks protrude from the front of the machine, with no outrigger legs or arms, meaning the truck can be driven up to the exact location of the load or racking. This means that no reach facility is required, and lends itself to straightforward operation.
Whats a reach lift?
Reach trucks are forklifts used in narrow aisle applications, such as warehouses. The Reach Truck is an asset to any warehouse fleet – it allows operators to easily navigate in and out of narrow aisles and reach significant heights, all while maintaining lifting capacity.
The most read
.
.
.
Summary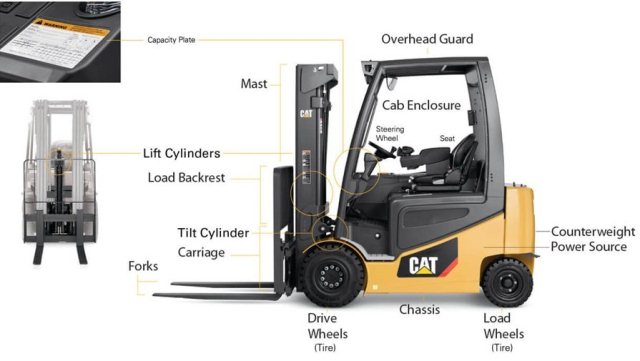 Article Name
Description
FORKLIFT: how does it work? operator, loading and unloading, brands and models, types, parts, counterweight, manual, electric, accidents and safety.