What kind of forklift ramps are there?
How much does a container ramp cost?
It is often necessary to load forklifts, pallet trucks, carts and other machinery in containers or on slopes.
A moving ramp is a perfect solution to help you safely load your items at these low heights.
Checking the height and capacity of your load is essential to help you identify which ramp will be the best for your needs.
There is a wide range of container ramps, perfect for loading at low heights. Many of the ramps are designed with low clearance items in mind, which means that loading your forklift or pallet truck is not a problem.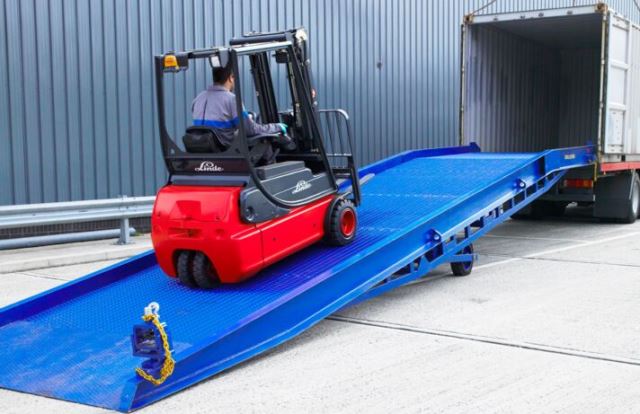 Container Ramps for Sale
The wide selection of container ramps allows you to easily load and unload shipping containers using pallet trucks or forklifts. Available in a variety of sizes, weight capacities and materials, there is a container ramp that is a perfect solution for your needs, at a guaranteed low price.
forklift ramps
For heavy duty container ramps, for example, if you are loading machinery, including forklifts, we recommend looking at rubber container ramps and aluminum container ramps.
Pallet truck ramps
To load lighter items such as pallet trucks, we suggest pallet truck ramps or wedge container ramps which have a maximum capacity of 3000kg.
Rubber Container Ramps
Rubber container ramps are modular solutions, provided in sections to allow one person to put the ramp in place and remove it after use. The modular pieces also mean that the ramps are easy to store when not in use.
Connectors are used to hold sections securely in place. The ramps are provided in a width of 2200mm to cover the entire width of the container.
As they are made of rubber, they are extremely durable with a capacity of 10,000 kg. However, they can be left out; note that you must remove the ramps to be able to close the container.
Rubber container ramps are available in heights up to 300mm. The ramps are constructed with a 1: 8 – 1: 9 gradient, depending on the selected loading height, for smooth loading, making them perfect for loading forklifts and pallet trucks.
Aluminum container ramps
Aluminum container ramps are provided as a pair. There is a wide range available, suitable for heights from 120mm to 400mm with capacities ranging from 1250kg to 7500kg.
The ramps are made to measure and are certified and customizable. Simply support the ramps on the container or the drop and start loading.
The ramps are perfect for loading machinery, including forklifts, with heights of up to 400mm. Like rubber container ramps, they are designed to accommodate items with low ground clearance.
Aluminum ramps
As the aluminum container ramps are fully customizable, of course the ramps can be cut to alternative loading heights if required. Alternative connection types can also be provided.
Ramps are designed for the advertised loading height to ensure the ramp rests safely on the ground during loading.
It is important to load only at the advertised load heights, loading below or above the recommended loading height will prevent the end from resting firmly on the ground and will make the load unsafe. The warranty will also be voided. Please note that the ramps are not suitable for solid wheels.
Yard Ramps
Mobile Yard Ramps are perfect for loading and unloading shipping containers found on a vehicle. They are a perfect way to speed up container loading and unloading, which in turn saves your team time and saves your business money in the long run.
Due to the gentle slope, patio ramps are suitable for forklifts and items with low ground clearance.
In addition, heavy machinery can also go up the ramps.
The ramps are adjustable in height (between 800 mm – 1600 mm) thanks to hydraulic assistance. The ramps can also be easily maneuvered with a forklift.
Ramps are made to order and certified.
The non-slip mesh surface ensures a safe load at all times.
Moving ramps can be provided with handrails to ensure your team is safe if you plan on having your colleagues climb the ramp.
How much do container ramps cost?
Container ramps are available in 15,000, 20,000, 25,000, and 30,000 lb capacities. Custom sizes are available.
Once the locks are in place, removing slack from the chain is simple and quick with the sturdy grip notch bracket welded to the sides of the chute.
The result is a sturdy, secure ramp that attaches securely to the container safely and quickly.
Although the costs vary depending on where you are in the country, getting a quote is a fairly easy task through the online pages of the suppliers.
Shipping costs must be paid, and you can see the full catalog of sizes, materials, models and designs.
More on this story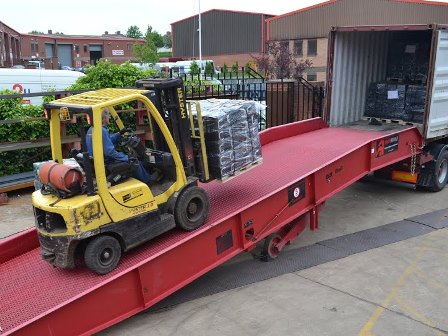 Forklifts are extremely useful workplace vehicles, as long as they are used safely and appropriately by operators who are appropriately trained and competent to use them.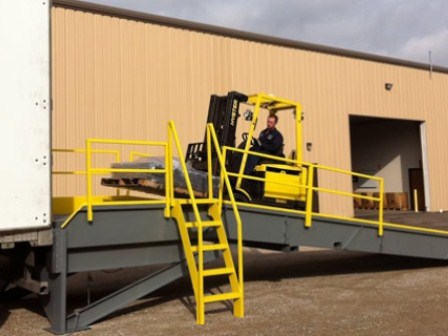 Loading docks perform a critical function in the logistics system infrastructure. They form the link between manufacturing and transportation, and between transportation and storage functions.