Forklift Ramps for Containers – Forklift Yard Ramp: A yard ramp is a portable loading dock. It is a ramp that can be moved anywhere in the shipping and receiving yard to give forklift access to a shipping container or semi-trailer at a loading dock level.
Yard ramps fulfill an important niche as a productivity tool, enabling the user to move heavy equipment via forklift from ground level to loading dock level. The chief purpose of a yard ramp is to facilitate the loading and unloading of semi-trailer trucks at locations that lack a loading dock. Alternatively, a yard ramp can be used to allow vehicles to enter a warehouse through a loading dock door.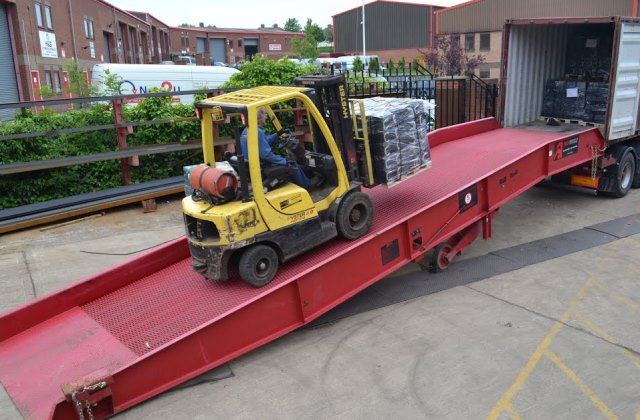 Portable steel yard ramp
The yard ramp allows for traffic to move from the dock level down to the ground or from the ground up into the back of a truck, which helps loading/unloading flow smoothly. The 18" industrial solid rubber pneumatic tires allow for easy movement of the ramp around your shipping yard to have you ready in minutes to begin loading/unloading. The hydraulic adjustment system permits fast reliable height adjustment of the yard ramp with virtually any trailer bed height.
Portable Steel Yard Ramp Highlights
All steel welded construction
Capacities from 16,000 to 60,000 pounds
Wide range of capacities and sizes available
Solid rubber tires standard, pneumatic tires optional
Steel serrated grating
Double-action hydraulic pump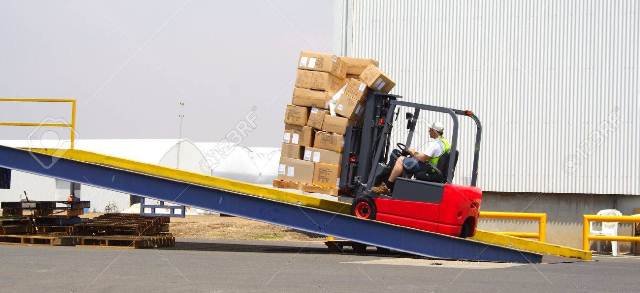 Portable yard ramps
Forklift Yard Ramp features
Versatility is Paramount in a Yard Ramp: The standard heavy-duty axle assembly with 18" industrial solid rubber pneumatic tires provide excellent mobility for positioning. In addition, the axle assembly can be removed or raised for permanent dock ramp installations.
Heavy Duty Structure: Structure consists of heavy-duty formed steel side girders fully welded to high strength steel joists. (Picture shows the underside of ramp.)
Tow Clamp: The "tow clamp" connects between the ramp pocket and the tow hitch of your fork truck and permits easy transportation of the ramp over longer distances.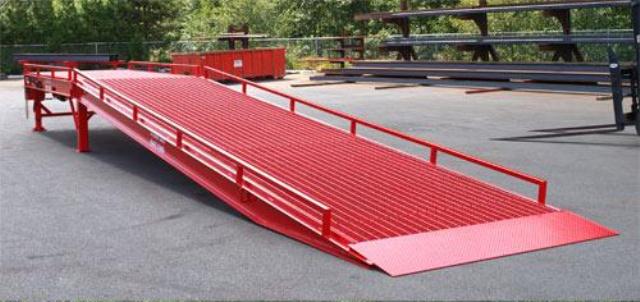 Portable forklift ramps
Forklift Yard Ramp:
Portable forklift loading ramp: When you need to unload a truck, trailer or railcar and dock space aren't available, our heavy-duty 22,000 lb capacity steel yard ramp is the solution to your problem.
Easily movable on solid rubber wheels, each yard ramp includes a dual cylinder hydraulic pump to raise or lower the ramp to the proper loading height.
Two steel ramps ensure a smooth transition from the ground to the ramp. This steelyard ramp is designed for loading and unloading a truck, trailer, or railcar when dock space isn't available.
The surface of the ramp includes a middle diamond plated strip that is surrounded by serrated steel grating, which allows for snow, dirt, and debris to fall through, preventing dangerous build-up on the ramp (please note, the grated surface of this ramp is not designed for forklift turning maneuvers).
Additional safety features include 8" tall side rails on either side to prevent forklifts from driving over the edges, and two 60" safety chains to hold the ramp secure to the loading surface.
The chains can be attached to a semi-truck trailer's ICC bumper to prevent the ramp from kicking out. This yard ramp also includes a dual-action hydraulic pump for smooth raising and lowering of the yard ramp.
To use the pump, simply push the lever forward or back to raise the front and open the release valve to safely lower the ramp into position. The pump is conveniently stored internally for safety and protection.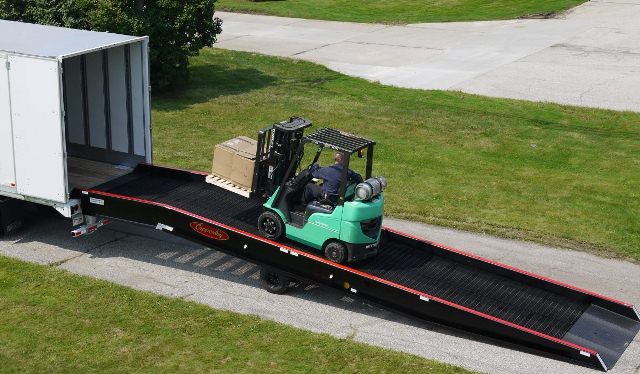 Forklift ramp slope
Forklift Yard ramp design
Some yard ramps are constructed from aluminum, but although this has weight advantages, their cost is typically much higher than their steel equivalents; most yard ramps are therefore constructed from welded steel unless the weather conditions are such that aluminum needs to be used, i.e. in climates with temperatures well below freezing.
There are a variety of choices for the decking material as it is required to be both tough and non-slip in a range of operating conditions. Most manufacturers use some form of open grill sheeting supported on a rugged base structure.
The basic layout of a yard ramp is an inclined section of about 9 m (29'6″) in length and 2.25 m (7'5″) in width, followed by a flat approach section of about 2.5 m (8'3″) in length at the top, with a lip to enter the container or truck being loaded or unloaded.
Both sides of the ramp usually have safety rails to prevent forklifts from accidentally driving over the edges. Standard height should be at 7″ and 4″ thick. The yard ramp is supported on an undercarriage, or adjustable legs, fitted with wheels which are used to transport the yard ramps around.
The undercarriage/legs are adjustable so that the height of the ramp can be raised whilst the truck is put into position, and then the yard ramp is lowered so that the front lip supports the weight of the yard ramp on the container or truck floor. It is then vitally important that the yard ramp is allowed to float up and down with the vehicle as it raises/lowers on its suspension.

OSHA forklift ramp requirements
1910.178(n)(7)(i) When ascending or descending grades in excess of 10 percent, loaded trucks shall be driven with the load upgrade.
1910.178(n)(ii) On all grades the load and load engaging means shall be tilted back if applicable, and raised only as far as necessary to clear the road surface.
Forklift gradeability
Gradeability ratings apply to a particular make and model of the machine and are legitimately supplied only by the manufacturer. The ratings identify on which grade a machine is capable of climbing and stopping with a full capacity load. For example, a Toyota 8FBCU25 forklift is rated at approximately 20% which is only 12 degrees. However, some 4-wheel drive rough terrain forklifts have as much as a 30-40% gradeability rating.
OSHA loading ramp requirements
Climbing excessive grades can have a negative effect on battery cycle time, fuel consumption, component temperature, longevity and reliability of the machine. While the ability to reliably climb a ramp is important, safely descending a ramp when carrying heavy loads is equally concerning. The forklift must be able to safely stop on the required grade. Operators should be trained to follow specific travel rules for their own safety.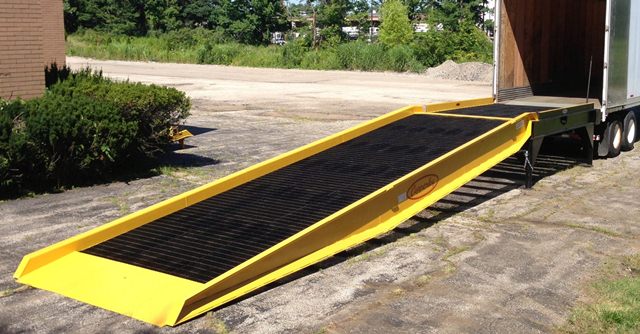 Forklift ramps for containers
Forklift ramps for containers: The perfect answer for loading and unloading freight from shipping containers
The Shipping Container Ramp is used to load and unload cargo from shipping containers with a forklift. It allows you to safely navigate the transition from the ground to the bed of the shipping container.
Container Ramps are built tough to withstand heavy use. They are built to last.
These Shipping Container Ramps feature a full-width stiffener to provide strength and to bump up against the container. Locking chains with a specially designed keeper allow you to easily lock it into the holes in the container. After the keepers are in place, taking up the slack in the chain is simple and quick with the sturdy grab notch bracket welded to the sides of the Container Ramp. The result is a safe, sturdy loading ramp locked firmly to the shipping container. You can now load and unload your container safely.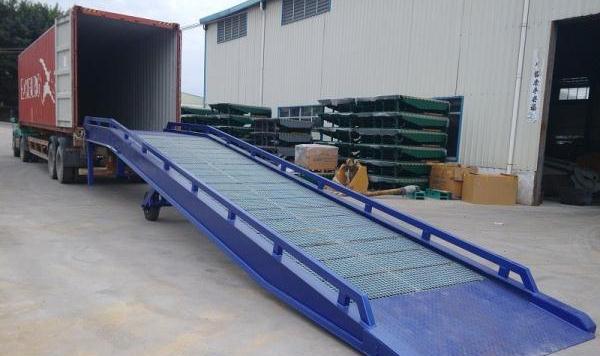 Forklift Yard Ramp
What is a good slope for a ramp?
For commercial use when somebody is sitting in the wheelchair or scooter while it climbs the ramp, ADA recommends a 1:12 slope, which means that every 1″ of vertical rise requires at least 1′ (12″) of ramp length (5 degrees of incline). Example: A 24″ rise requires a minimum ramp length of 24′ (288″) (24 divided by 1).
what is a forklift ramp for containers?
The Shipping Container Ramp is used to load and unload cargo from shipping containers with a forklift. It allows you to safely navigate the transition from the ground to the bed of the shipping container. Container Ramps are built tough to withstand heavy use.
How do you calculate the slope of a ramp?
Slope percentage is calculated in much the same way as the gradient. Convert the rise and run to the same units and then divide the rise by the run. Multiply this number by 100 and you have the percentage slope. For instance, 3″ rise divided by 36″ run = .083 x 100 = an 8.3% slope.
What is a yard ramp?
A yard ramp, sometimes called mobile yard ramp or container ramp, is a movable metal ramp for loading and unloading of shipping containers and vehicle trailers, without the need for permanent docking bays.
When driving a forklift the forks should be at what height?
When the forks are too low, it could scrape the floor surface. It is also dangerous when you reach an incline or slope, that is why when traveling in slope, drive the forklift in reverse. In a typical warehouse set up with an even floor surface, the forks should be above the ground at a height of 5 to 10 centimeters.
The most read
More on this story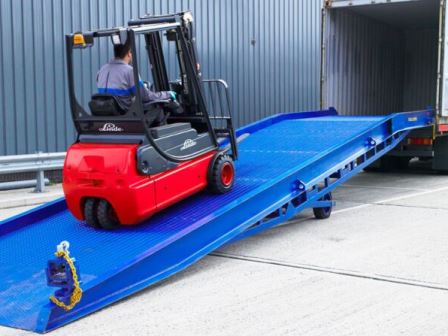 What kind of forklift ramps are there?
How much does a container ramp cost?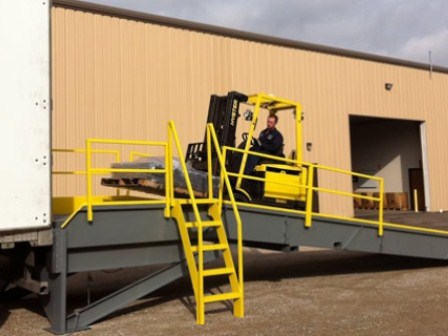 Loading docks perform a critical function in the logistics system infrastructure. They form the link between manufacturing and transportation, and between transportation and storage functions.