Different Types of Pallet Jacks: Tips for buying a hand pallet truck and our comments on the 10 best pallet pallets
If you come across this page, it is likely that you are not maintenance staff, but a professional who is looking for real plans to buy your Jack pallet. You are in the right place.
If you already know which pallet jack to choose but you want to find a supplier in your area, we recommend that you browse this site that classifies the suppliers with some criteria that include the geographical area of the country.
If you are looking for more general considerations, you will find some articles that will inform you below as our reviews of the ten best pallet jacks you can buy.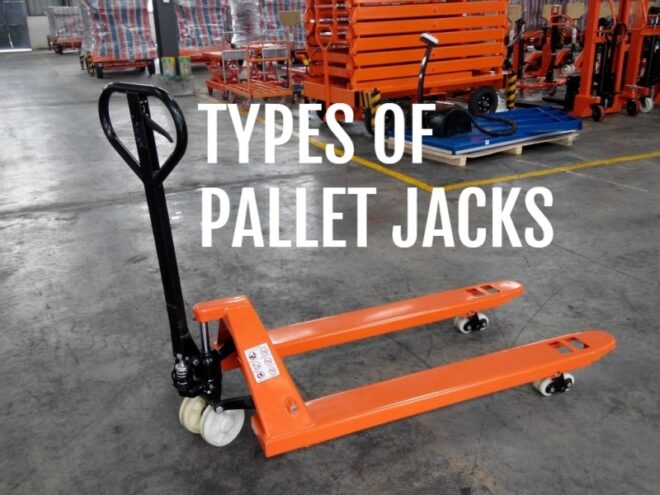 Different types of pallet jacks
What is a palette used for?
A paddle jack, also known as a pallet truck, a pallet pump, a pump, a dog or a rig is a tool used to lift and move paddles.
Pallet jacks are the most basic form of forklift trucks and are designed to move heavy or light pallets inside a warehouse.
What are the different types of pallet jack? It can be distinguished:
Hydraulic pallet jack
The pallet truck is made up of a cold-bent, welded and mechanized metal chassis. Visually it looks like a skateboard. The hydraulic manual pallet trucks are handling equipment that allows transporting the palletized goods using a double fork, three wheels, and a handle. This allows to guide the machine and slow down its progress. The lifting of the pallet is done manually by activating the grip connected to a hydraulic system.
Generally, manual hydraulic pallet trucks support a maximum load of 3500 kg (although this depends on the models). They are ideal for transporting pallets throughout the length and width of the warehouse, but they do not allow the load to be raised at high altitudes, even though there are special ones such as the scissor pallet trucks (its reach is 800 mm).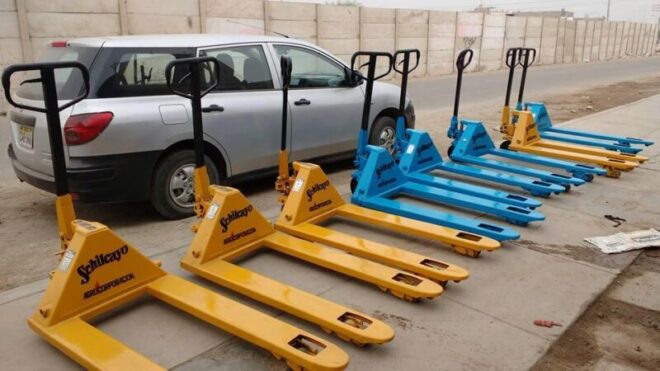 Manual pallet jack
Manual pallet cat and most commonly seen in personal storage and retail operations. It can carry a load of up to 5,500 pounds (2500 kg). This type of vane pump is a low lift classification used to move palletized loads over small distances.
The first types lifted the forks and were loaded only by mechanical joints. A more modern type uses a hydraulic pump pumped by hand to lift. The first appeared in 1918 as shown in the image below.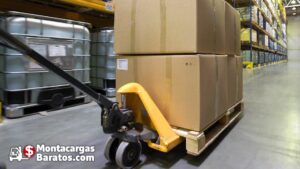 Electric pallet jack
Electric pallet trucks, also known as electric pallet trucks, walkies, single or double pallet jacks, or power jack, are motorized to allow the lifting and movement of heavier and stacked pallets. Some contain a platform for the user to stand while moving pallets.
This type of vane pump is ideal for warehouses where heavy loads of pallets weighing more than 5,000 pounds are handled. The electric jack for pallets has a load capacity of up to 6,000 pounds.
They are best for use in loading docks and preparation areas. Some of them can even lift much more.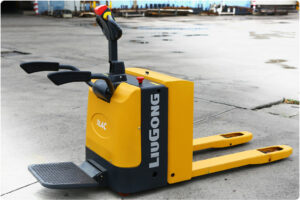 Ride on Pallet Jack
The rider pallet jack is the big brother to the electric walk behind pallet jack. It is about as close to a full-size forklift as pallet jacks get. Instead of walking behind the pallet jack, the operator is afforded a platform which he or she can step on to and ride along with the pallet jack as it drives. This is a great option for large warehouse operations where a lot of area needs to be covered quickly.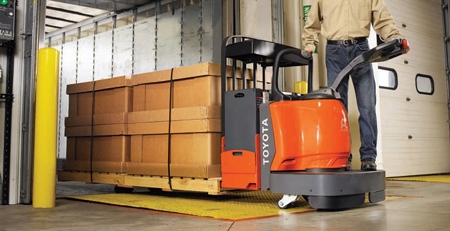 Pallet jack Price
How much does a pallet jack cost?
The standard pallet jack is the "5500 lbs (2.5 tons)": see the image above. The first prices start at $ 250 on Amazon, while it seems that there are low-cost prices of $ 119 on Alibaba.
Pallet jack dimensions
How wide is a standard palette cat?
The North American industry seems to have "standardized" pallet taps in several ways: Width of each of the two forks: Fork width of 7 ", that is, the dimension between the outer edges of the forks: available as 20¼" ( 51.4 cm) and 27 "(68.6 cm).
How to use a pallet jack?
To raise the forks, push the drive lever down and pump the handle up and down until the platform has reached the desired height.
A one-inch space between the floor and the pallet is usually enough to move the load. To move a load, place the drive lever in a neutral or middle position.
Pallet jack for sale
What are the best manual pallet jack available in the market?
Now that you know almost everything about pallet jacks, you may be looking for a pallet jack for your business, there are many options to choose from and you are asking yourself "Which of them is better for my money?"
Let's review some of the best palette shots available, and you can check our reviews below.
Standard pallet jack
Features to consider before buying a pallet jack:
It would be difficult to list all the advertising features of the different pallet jack manufacturers. Consequently, we have listed the key characteristics that we see as remarkable and appropriate for comparison.
For example, greasable bushings: these are the small metal sleeves inside the pivot point and the axles that support the platform jack wheels. The bushings can be made of brass or steel. When the platform jack is raised or lowered, these bushings will experience wear. With greaseable hubs, the company offers you the possibility of increasing the useful life of your pallet truck, which is a sign of durability.
Pallet jack Weight
We review the platform jack weight because the major forklift manufacturers make claims about the quality and durability of their equipment based on weight.
For example, Crown Lift compares the weight of its electric pallet trucks with other manufacturers to claim quality and durability. We know that steel is heavy and expensive and that more steel in a pallet truck can indicate a cause for a higher price.
On the contrary, we could expect a lighter palette cat to cost less.
Pallet jack wheels
Pallet paddle wheels are usually made of polyurethane and should be easy to change as they wear out. This ease of operation is an important feature and will extend the lifespan of your platform jack.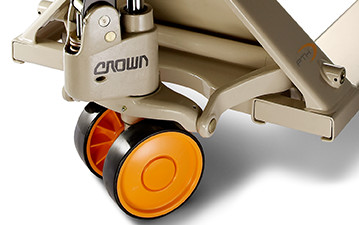 Pallet jack warranty
We assume that the guarantee offered by a company reflects the confidence they have in their products. But, it also adds cost and value.
It is expected that a paddle jack with a higher warranty will have a higher price than a paddle jack with a smaller warranty.
This is something that must be taken into account when looking for the best pallet cat that exists!
Pallet jack short forks
Pallet jack lowering height: The lowering height of the pallet fork is an important point to consider. The reason is simple; If the pallet forks of the platform can descend to a low profile, it would enter the platform more easily.
And with the various sizes of pallets available in the market, we often find cheap pallets with a smaller opening, which makes it difficult for pallet forks to enter the forks' pockets.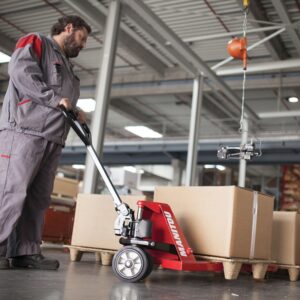 Which pallet jack is better?
We will not declare a winner in this review since the purpose is mainly to help you find the one that best suits your needs.
But the general considerations are:
A heavy pallet truck
A low height pallet truck
A good capacity
With greasable bushings (brass)
Long warranty
The pallet shots we choose for our reviews comply with these considerations and, in our opinion, are the best.
Types of Pallet Jacks
Pallet jack manufacturers: Review of the ten best pallet trucks available.
Review of the ten best pallet trucks available:
Vergopallet jack
This pallet truck – the S5500L – is one of the best pallet trucks with a load capacity of 5,500 pounds, protective polyurethane wheels and 27 x 48 inches L-forks.
It measures 48 inches tall, weighs 160 pounds and measures 65 inches in length. The conical design of its input rollers, the integrated pump without welding, the overload valve in the pump and the control of the descent speed make it more efficient in its class.
We also like that you have a 210-degree directional arc for easy handling, durable steel construction with a powder coating finish so you can use it for a long time.
This pallet truck has a reasonable price and is made of high-quality construction.
Crown pallet jack
Manual pallet for heavy-duty. This manually operated hydraulic skid that supports the 5,000-pound weight has industry-leading quality, support, and durability.
It is the best option for the transport of pallets since it will recover from its own weight every day for many years.
It has an ergonomic handle and a three-position lever with lifting, lowering and neutral positions, and also has a steering angle of 200 degrees.
You'll love it that comes with a factory warranty and, if you need a new part, Crown Heavy will make sure the parts you need are available and easy to replace.
The construction is fantastic, and currently, you would not find this type of construction in any other similar product available in the market.
Sandusky
Heavy-duty manual pallet truck -TT5027- This heavy-duty hydraulic pallet from Sandusky has two forks, a handle, nylon wheels and rollers that are used to transport and lift pallets.
It is made of steel, can transport up to 5,500 pounds, resists corrosion, rusts and wears out.
The shape of the handle facilitates the transport of your loads since it has a trigger that frees and lowers the forks.
You will also love that the wheels are made of nylon and that they do not scratch your floors. Its weight is 198 pounds, making it easy to move and transport while loading large loads.
JET
The model -PTW2748- In addition to being able to move the load up to 6,000 pounds, this paddle jack can rotate 200 degrees so that it can move in tight spaces.
It is made of solid steel and, for this reason, its push rods will never have to be adjusted, which is a great advantage.
Poly-aluminum steel wheels are possible for this pallet truck to move through uneven floors.
It has knobs and handles with padded grip for easy handling. It is possible to use this pallet truck with one hand. It also has a two-year warranty.
Roughneck
The -4,400- model is one of the best manual pallet jacks with a load capacity of 5,500 pounds. It allows you to raise the load from 3 "to 7 1/2" with the control of the finger lever. The touch of a switch allows you to lower it and keep it in a neutral position.
Goplus
Heavy-duty, this Goplus hydraulic jack for vanes is made of high tensile strength steel, so it will easily resist wear and corrosion.
Its load capacity is 5,500 pounds. Lift and transport the pallets easily and without problems. Ensure there are no leaks with your integrated pump without welding.
The company offers a 100% satisfaction guarantee to make it safe for its customers, which is a great advantage.
Roughneck – 2,200 lb
If you are looking for a pallet truck to move small pallets, then this Roughneck pallet truck is for you.
He is the little brother of Roughneck 4,400 lbs. You can use it to move safes of weapons and seeds or food.
It can also be used in garages, stores, convenience stores, retail stores, etc … It can transport up to 2,200 pounds, and small forks and width facilitate the transport of small loads.
Eoslift
The model -E20V- of capacity of 4400 lb. The opening of this pallet truck is specially designed according to the standards of the American pallets.
Its design facilitates the insertion and removal of the forks of the pallets.
It can withstand up to 4,400 pounds of load due to its sturdy steel construction.
Vestil pallet jack
Model EPT-2748-33, 3300 lb capacity, 48 "long x 27" wide. This electric jack for pallets makes moving pallets a game.
It is easy and convenient because it has buttons to go up and down with the tips of your fingers, a safety back button and an accelerator to advance and reverse the direction that is easy to use. The horn will alert people that you are approaching. It comes with a standard battery charger (24 volts) and can operate for eight hours with a charge. This yellow and black pallet weighs 671 pounds.
Prime Scales
The model PS-5000PJ is one of the best pallets available. It has a built-in scale to calibrate its performance and has been made by manufacturers with more than 30 years of experience in pallet trucks.
They ensure the maximum performance for each part of their products, either in relation to the handling of materials or their weighing. With its low profile, it fits most of the different sizes of pallets.
What are pallet jacks used for?
What are pallet jacks used for?
A pallet jack, also known as a pallet truck, pallet pump, pump truck, dog, or jigger is a tool used to lift and move pallets. Pallet jacks are the most basic form of a forklift and are intended to move pallets within a warehouse.
What pallet jack should I buy?
the pallet you get for your business will depend on what you need, small or large loads, low profile, scale … there are pallet sockets for every need. You will not be mistaken with any of the pallet trucks reviewed in this article. I hope you find the most suitable for your business and do not forget to compare its features and prices to buy the best one within your budget.
Do you push or pull a pallet jack?
A person can push almost four times the weight they can pull. That's why when the choice to push or pull a pallet jack arises, it's generally safer to push it. Using both arms to pull a pallet jack behind you is a recipe for being run into by the pallet if you have to stop suddenly.
What is the difference between a pallet jack and a forklift?
A pallet jack is the most basic type of forklift. They perform best when used to transport long distances either full or partial pallet loads. The difference between a pallet jack and a pallet truck is quite simple: a pallet jack is driven manually, while a rechargeable battery powers a pallet truck.
The most read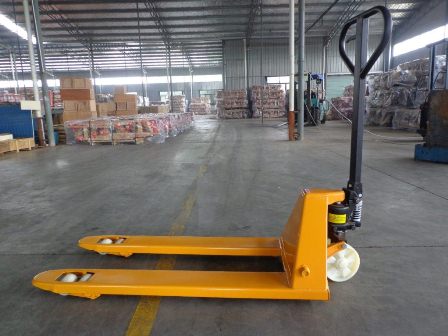 It is a mechanism that is used to easily move platforms with objects. They are manufactured in different sizes and materials, for example, nylon, polyurethane or neoprene.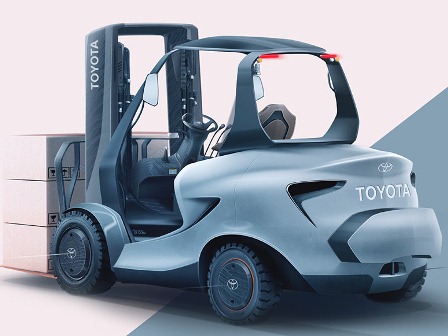 Its main function is based on storing enough energy to start the forklift engine. Its secondary function is to store the remaining energy for later use in equipment for extended periods.
More on this story