Portable gantry crane: industrial, construction, mobile, dock, for containers, bridge, parts, design, operator, hoist, tires, operation.
A special type of crane that elevates the load by means of a forklift installed on a beam. Gantry cranes are commonly found in shipyards or in places like steel mills, where space at height can be a problem.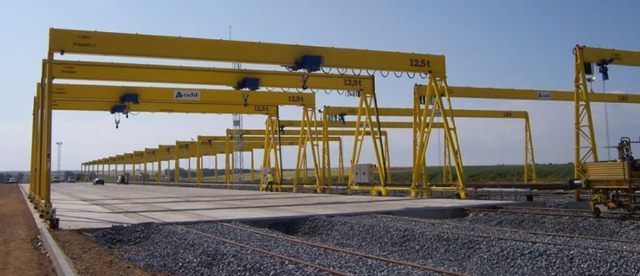 … no man should be forced to do the work that a machine does …

CRANE OPERATOR
What is a gantry crane used for?
It is a crane rigidly supported by two or more legs. These legs can usually be moved on horizontal rails at ground level
A gantry crane is similar to a traveling crane, but instead of moving on suspended tracks, the crane uses legs to support the bridge, the car, and the hoist.
These legs travel on rails that are embedded in, or on the structure of the floor or ground.
A gantry crane is ideal when you need a light and fast discharge crane for applications that require portability and resistance to corrosion.
They are also considered when there is a reason not to incorporate a raised track system and are more traditionally used in outdoor applications where complete beams and columns cannot be installed or can be used under an existing bridge crane system.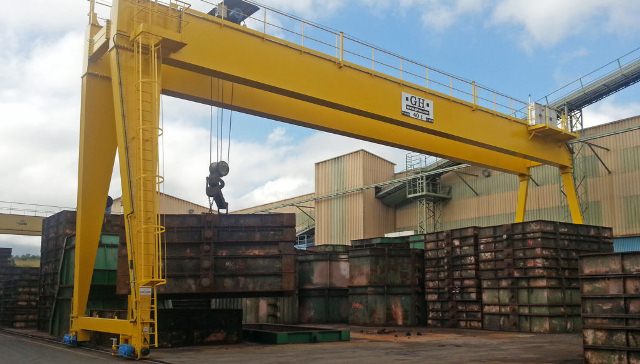 Construction Industry
The gantry cranes or bridge commonly found in yards, patios, sites construction industry, which is being built like a bridge, or in places such as steelworks, where high space can be a problem.
They are used particularly to lift very heavy loads in industries, such as naval, quarries, ports, etc.
In some factories and ships, the so-called bridge-crane is used, which has the same operation as the gantry crane, with the difference that the beam rests directly on the rails.
The typical applications of gantry cranes are manipulation of marbles, granite, construction material, pre-fabricated concrete, steel, metal structures, etc.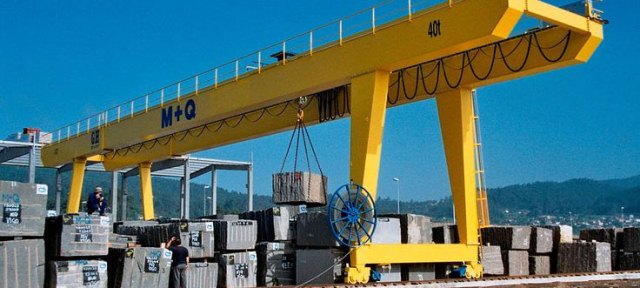 Gantry Crane Specification
Widely used in interiors and exteriors to transport materials.
In comparison with the traveling crane, the gantry crane is of low demand in the plants.
Once they exceed 30 meters of light, flexible legs and stiff leg must be established to improve the stability of the equipment.
Good performance, easy to maintain and repair.
The gantry crane is ideal when one does not want to build a support structure or the building does not support the loads that need to be moved.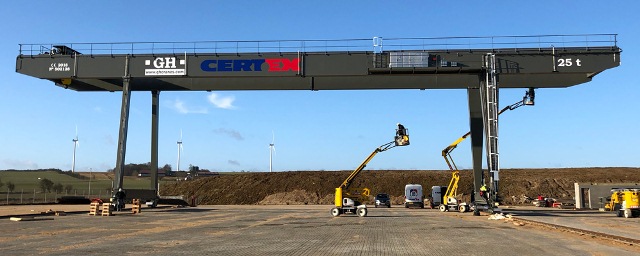 Gantry Crane Parts
main beam,
end trucks,
support legs,
hoist or cart,
electric system,
metal accessories,
displacement mechanism,
sliding rail, etc.
The gantry crane is ideal when one does not want to build a support structure or the building does not support the loads that need to be moved.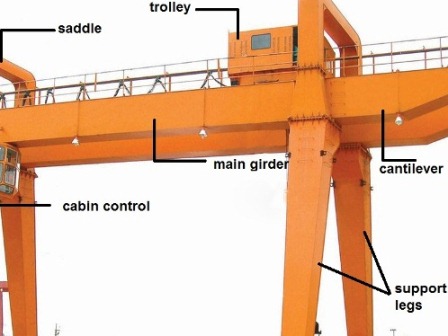 Gantry cranes are among the most widely used industrial crane varieties. They are very similar in nature to bridge cranes; the only substantial difference between the two configurations is gantry cranes' mobility compared to bridge cranes.
Types of gantry crane
Types of crane by the amount of beams
The gantry crane can be a simple beam
The gantry crane can be a double beam
simple beam gantry crane
double beam gantry cranes
Mobile crane
The means of moving the mobile crane are through tires, rails, rails, etc.
It can run on rails or rails
It can work on tires or
be fixed in a single position.
port crane on tires
gantry crane on rails
crane without wheels
Portable crane
It is a lifting machine that has a displacement system with the possibility of making a rotation of up to 360º. It is used in automotive workshops, warehouses, and warehouses.
They are used in plants that require the replacement and relocation of equipment and machinery and a quick and easy movement to and from the work site.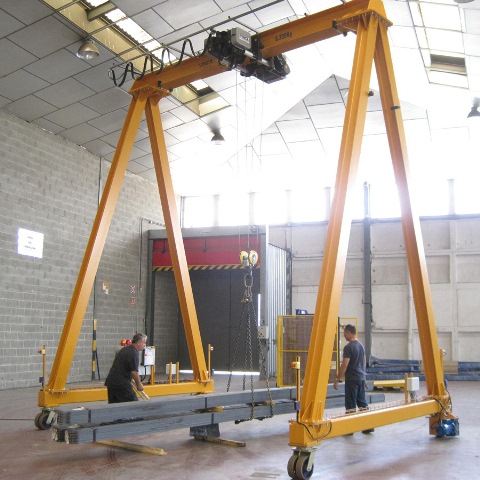 Semi Gantry Crane
The semi-arctic cranes are a very practical solution for those cases in which it is not necessary to cover the entire width of the ship. Thus, one end of the crane runs on the elevated rail and the other on the ground, guided well by rails or on a plate fixed on the ground.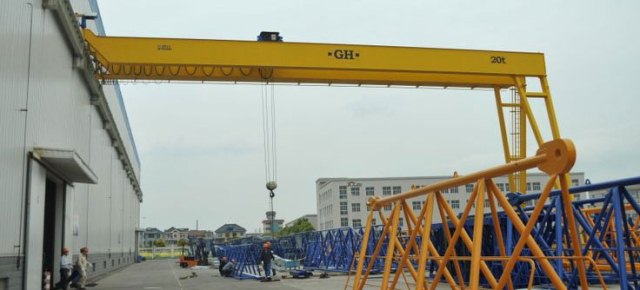 Industrial crane
They are highly efficient cranes for work on outdoor platforms, high speeds and capacities.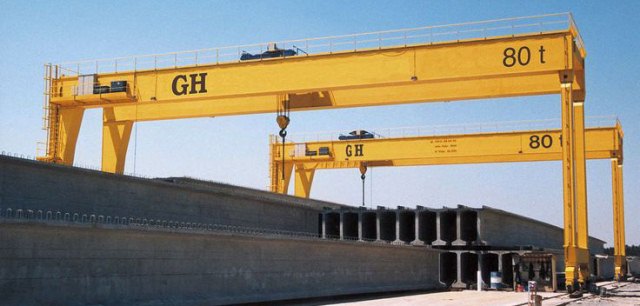 Overhead gantry crane
Gantry crane features:
It is important to choose the right gantry crane for handling materials indoors. There are several things you should consider before deciding on a gantry crane.
First, it is necessary to know the dimensions of your building well, including the height, width, and length of the building. With the information, you can know what size of crane you need.
Second, the load capacity is necessary to provide when you plan to buy a crane. You should not use a gantry crane to lift heavy goods whose weight is greater than the lifting capacity of the crane, which is dangerous and can cause risks and accidents.
Third, it is important to know your work environment and ownership of the materials you will lift, for example, if the crane is used to lift metals, the corresponding lifting tools must be equipped.
If the crane is used in a special environment, special processing and protection must be carried out so that the gantry crane ensures that its work is safe and reliable.
Finally, it is necessary to choose professional suppliers of gantry cranes because they will offer professional advice and recommendations to meet their work needs.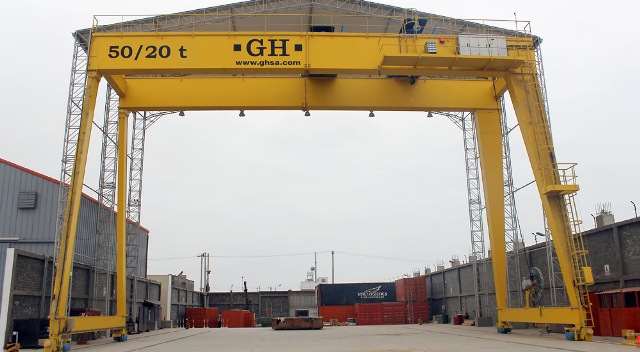 Container crane
Container crane, are large-sized port cranes, developed to carry out the loading and unloading of containers between a ship and land, mainly in container port terminals.
Dimensions:
The geometry of the development of the crane depends on the largest ships, which will reach the terminal where it will be located, as well as the characteristics of the dock.
There are four fundamental parameters that define the size of the crane depending on the ship on which it is required to operate:
Seaside reach (level A): Determined by the maximum length of the ship's beam to operate.
Distance between lanes (dimension B): Depending on those installed in the terminal.
Reach side earth (level C): Depending on the operative of the terminal to work in this area.
Low spreader height (E, F): Maximum travel of the lift according to whether the car is located, dock or boat area
The continuous increase in the dimensions of container cranes due to the demand for maritime transport with increasingly larger ships.
It obliges to make longer trips for landing operations, as well as a significant increase in the necessary time, in case a possible evacuation is necessary due to difficult access.
Portable gantry crane
As the name implies, the indoor portable gantry crane is obviously applied to lift and transport interior materials. It can be used in warehouses, workshops, processing and assembly factories, maintenance workshops, etc.
Some interior gantry cranes are used for low powerlifting work and we can say that they are small gantry cranes, others are used for the handling of very heavy materials and can be called heavy duty gantry cranes.
There are different forms of gantry cranes for interiors, that is:
gantry cranes for interiors,
semi-gantry crane for indoor operations
Cranes with a cantilever,
cranes with two cantilevers
Cranes without cantilever according to
single beam gantry cranes
double beam cranes for different work requirements.
In general, the double beam gantry crane has a lifting capacity greater than one.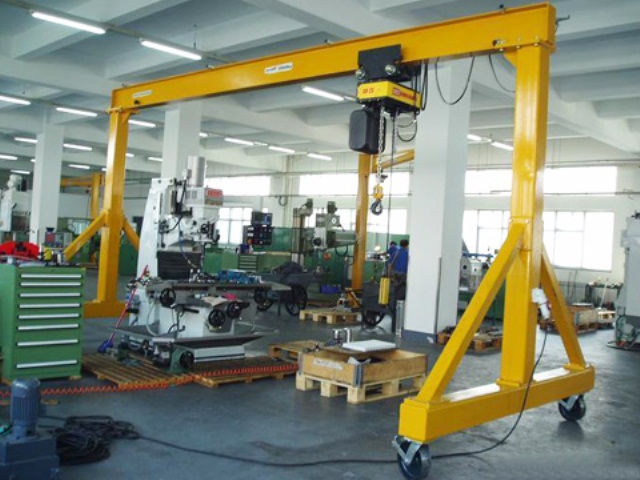 More on this story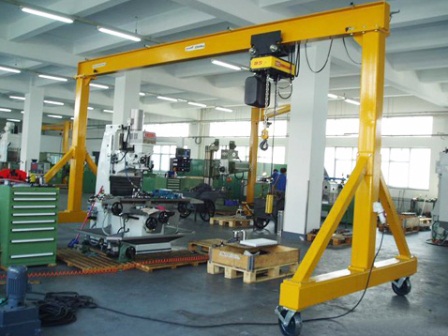 Portable Gantries: Reach all corners of your plant. Lift and move materials, or use for pulling motors, equipment, and other heavy machinery. Quick disassembly for transport by a service truck.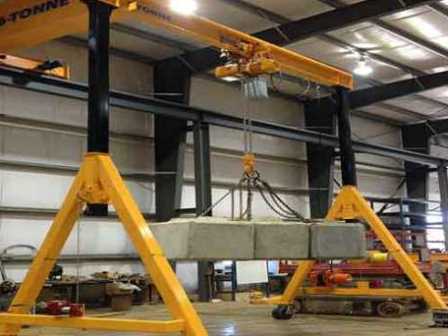 Adjustable Height Steel Gantry Cranes provide an economical way to lift materials anywhere within a facility. The casters enable you to move the gantry around your work area.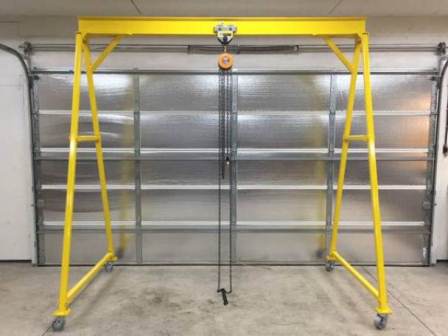 The Telescoping Gantry Crane can be positioned anywhere you need to lift and position materials. Standard adjustable height 8 ft to 12 ft.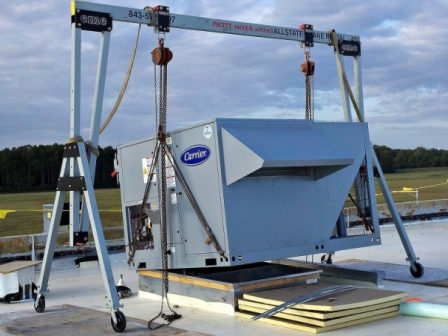 Made from lightweight extruded materials, the components of the adjustable height aluminum gantry crane are easily lifted by one person. This provides cost-effective shipment to a job site and allows for ease of use in a multitude of work areas.
Gantry Crane Design
The operation of a mobile gantry crane is similar to that of a bridge crane with the difference that in the latter the beam supports directly on elevated rails and anchored to the supporting structure of the building where it is located. Both configurations have a similar forklift system that can run the beam completely.
A volumetric space can be covered with a gantry crane since the load can be moved in all three dimensions. The main movements that a gantry crane is capable of performing are:
Lifting and lowering the load – vertical movement
The horizontal movement of the carriage/hoist traveling along the beam.
The horizontal movement of translation of the entire structure along the runway of the gantry.
Types of crane for the use that is given to the design: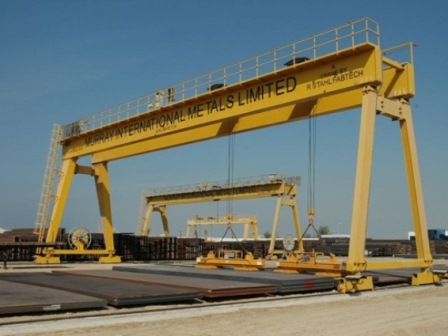 As a special series of lifting equipment, there are different types of gantry cranes. The classification of the gantry cranes can be listed according to several factors.
Gantry Crane Operator
Operation of a gantry crane:
The electric control system adopts the advanced lever ABM three-in-one or three-in-one SEW engine, demonstrating the integration of gear reducer, brakes, an electric motor.
The intelligent overload limiter ensures safe operation.
The European standard gantry crane and European standard electric hoist can improve work efficiency and extend the life of function.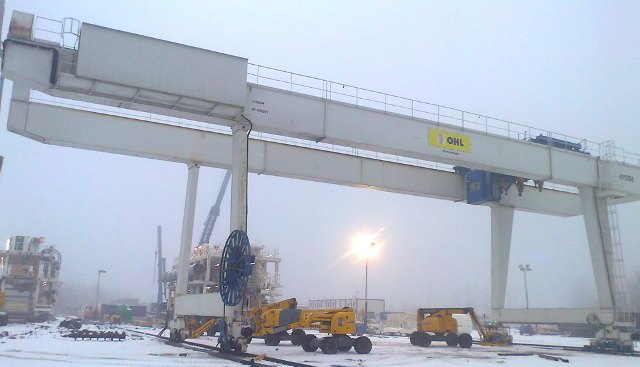 What is a gantry crane used for?
What is a gantry crane used for?
A gantry crane is a type of overhead crane that is similar to a bridge crane, but instead of moving on suspended runways, the crane uses legs to support the bridge, trolley, and hoist. These legs travel on tires or on rails that are embedded in the floor or ground structure.
How does a gantry crane work?
Basically, gantry hoists are used to move lengthy and bulky objects and typically taken advantage of at industrial warehouses of a large area or open construction sites.
Gantry hoist construction is in demand in hangars and workshops of enterprises engaged in the production of concrete products, freight yards.
In addition, the cranes are widely used to perform a variety of cargo handling, lifting and installation work on container platforms of railway junctions.
What is a gantry hoist?

Gantry hoists are floor-standing frames which can be used with a mains powered hoist unit or a battery powered portable hoist unit. They are usually stood over a bed and they are useful for those who are confined to bed for long periods.
What is the meaning of gantry crane?
A gantry crane is a crane built atop a gantry, which is a structure used to straddle an object or workspace. The terms gantry crane and overhead crane (or bridge crane) are often used interchangeably, as both types of crane straddle their workload.
Gantry crane for sale
Browse a wide selection of new gantry cranes, overhead cranes for sale near you at Amazon.com
Common uses for a full gantry or semi-gantry crane are heavy fabrication applications or in some type of outdoor yard-rail yards, shipping and container yards, steelyards, and scrap yards.
Portable and adjustable gantry cranes are often used to lift and hold an item in place while it is being worked on or to relocate heavy equipment and machinery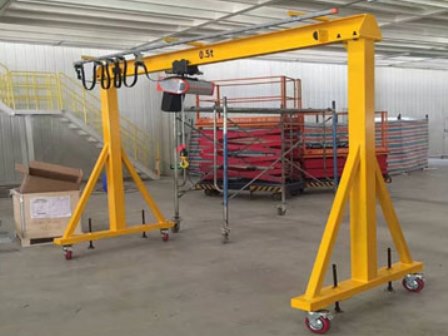 When buying one of this equipment, use and load considerations are necessary, whether they are for work at home or for a workshop.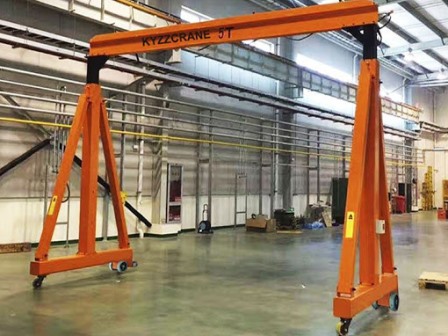 These are commonly found in workshops, fabrication warehouses, shipyards, and light manufacturing.