Best Brands of Thermometer: In 2020, the outbreak of the sale of thermometers has created a favorable impact on the market, as the demand for infrared thermometers has increased significantly, not only in the health sector but also in other industries.
Typically, infrared thermometers are segmented into forehead infrared thermometers, in-ear infrared thermometers, and multipurpose infrared thermometers.
Best Brands of Thermometer in USA
The fastest-growing regional market is North America, due to the rise in awareness about portable non-contact temperature monitoring devices, and rapid surge in forehead infrared demand in healthcare-private clinics in the U.S.A. and Canada.
Brands of Thermometer in 2020
The best fastest growing thermometer brands in the retail market, are those that have been present with a renowned brand such as Braun, Philips, Vicks, IHealth, IProven, Mothercare, Exergen, and Withings. They have adopted various strategies to strengthen their position in the market.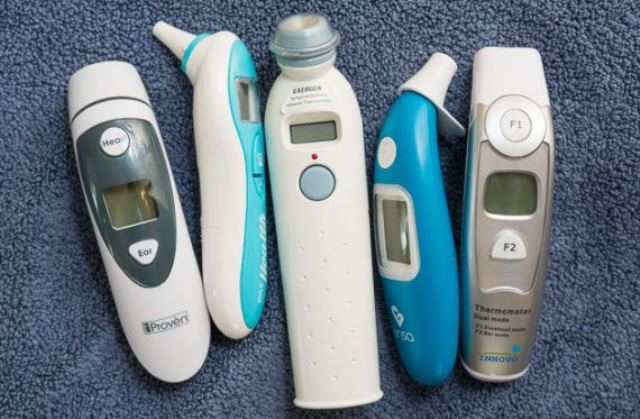 Ear Thermometer brands
Digital ear thermometers also called tympanic thermometers, use an infrared ray to measure the temperature inside the ear canal. The pros: When positioned properly, digital ear thermometers are quick and generally comfortable for children and adults.
Braun thermometers
Ear thermometer: We start the list by talking about the Braun brand, it is one of the most recognized brands in products that go towards baby care around the world. The Braun thermoscan 7 is presented below.
The best brands of thermometers for children
This is a thermometer to be used by babies, as it can easily be seen in its quite striking design for the smallest of the home. This on the other hand has an infrared technology that is the most advanced of its kind internationally in terms of measurement to avoid infection with germs. At the same time, it has an automatic shutdown system and also a silent mode to avoid disturbing the sleep of children, finally review that it has an LCD screen and easy reading.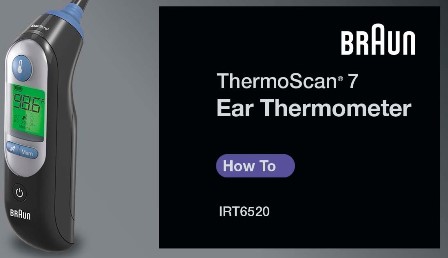 Philips Thermometer
Ear thermometer: Philips is a recognized brand in home electronic equipment and also in medical thermometers.
The connected ear thermometer allows you to quickly and accurately take readings and store them directly on your smart device using the free Philips HealthSuite health app so you can conveniently monitor your temperature over time.
Delivers fast and accurate results

Accurate temperature reading in 2 seconds
Provides accurate temperature measurements

Personalized tracking in the Philips health app

Automatically syncs to the Philips health app via Bluetooth®
Monitor your temperature over time

Comfortable and easy to use

Suitable for people of all ages
Gives results in Fahrenheit and Celsius
Red LED display ring for rapid high-temperature indication
The Philips ear thermometer uses this form to offer precise readings you can be confident are accurate. The thermometer offers an accurate measurement of ±0.4°F (±0.2°C) within the range of 90.3°F – 109.3°F (32.4°C – 42.9°C).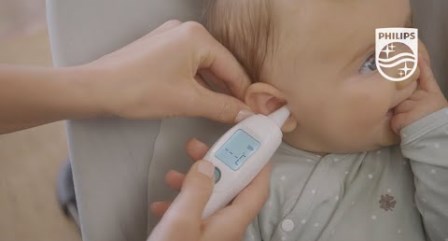 Forehead thermometer brands
Forehead thermometer brands, come in many different models and types, and all of them with features intended to make life a little easier when caring for a loved one or yourself when you might be under the weather.
Just this one simple device can give you peace of mind on your child's health status, and allow you to track whether they might be getting better or worse, so you can seek out professional medical advice if so.
Vicks digital thermometer
Forehead thermometer: Measuring the temperature of the body is no more a cumbersome task with this digitalized & non- invasive Vicks V977 forehead thermometer. It gives reading within 3 seconds just by a simple touch of a forehead. It does not irritate someone or spoil one's mood, as you do not love to insert a thermometer in any part of the body, unlike an oral type thermometer.
Best brand thermometer for babies
The Vicks temporal thermometer gives accurate, quick readings with just a sweep within the brow. The Comfort Touch suggestion provides a mild, non-invasive tracking approach for sleeping infants through to older members of the household perfect. The large easy-to-read screen uses Fever Insight technology to enable you to understand your kid's fever status at a glance – Red (high fever), Yellow (for mild fever), and Green (for ordinary temperature).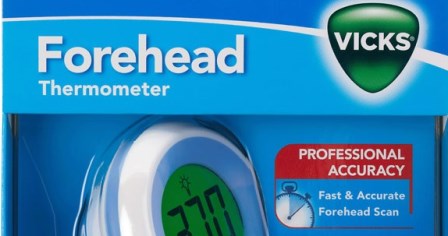 IHealth thermometer
Forehead thermometer: Our ultra-sensitive infrared sensor measures IR energy emitted from the forehead. The additional distance and environmental sensors make necessary adjustments to give you accurate readings. The latest built-in smart chip will ensure the excellent performance of the thermometer.
Why iHealth Thermometer?

3 Ultra-sensitive sensors built-in deliver more reliable results and ultimate safety for the end-users. An Ultra-sensitive infrared sensor collects more than 100 data points per second from the forehead. The additional distance and environmental sensors make necessary adjustments to give you accurate readings.

Smart Chip

The latest smart chip will ensure the excellent performance of the thermometer.

Hassle-Free Selection for Baby

No-touch design can be so easy to take a temperature without waking up the child. Gentle vibration notification will be instantly alerted and no annoying beep beep sound.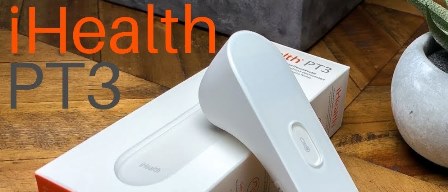 Ear and forehead thermometer brands
The best brands of thermometers, make taking your child's temperature quick and easy with the digital forehead and ear thermometer. The instant-read thermometer features an LCD backlit display so you can see the temp without turning on a light. This allows your infant or child to sleep while you check if they have a fever. Use it specifically for children or for the whole family. You choose if it's easier to use the ear or forehead for the reading.
IProven thermometers
Ear and forehead thermometer: IProven develops high-quality products that can be easily managed by all home users and impart quality life to people. iProven is developing a range of products to help mothers with taking care of their little ones. But iProvén DMT-489 is the most recommended of these products.
What does iProvén DMT-489 provide?
Accurate measurement. It uses infrared technology to take measurement of the temporal artery in the forehead
It's non-invasive and safe to use.
It 's easy to read and measure accuracy.
Dual-mode, both ear, and forehead
What's the difference between forehead thermometers?
After comparing various forehead thermometer, IProvén DMT-489 is a very good one among forehead thermometer products. Enough to use in the family.
Best brand thermometer for fever

Mothercare thermometer
Ear and Forehead thermometer: Mothercare is a truly global company that caters to many different markets and cultures, supplying products for parents, babies, and children up to the age of eight. Now it offers a wide range of maternity and children's clothing, medical thermometers and food, through our franchises in Europe, the Middle East, Asia, and Latin America.
Mothercare 2 in 1 thermometer is perfect for the whole family, this Mothercare thermometer allows you to accurately check your child's ear or forehead temperature with one touch and will give an accurate reading in just one second.
This 2 in 1 thermometer gives you the option to take your child's temperature from their ear or forehead whichever is easier. The temperature is clearly displayed on the digital color change screen in just one second. With a handy fever alert, this thermometer displays readings in both Celsius and Fahrenheit and features an automatic shut off to preserve battery life.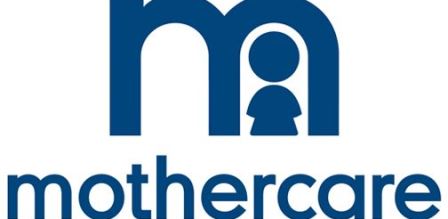 Temporal thermometer brands
Temporal artery thermometers use an infrared scanner to measure the temperature of the temporal artery in the forehead. The pros: Temporal artery thermometers can record a person's temperature quickly and are easily tolerated.
Exergen temporal thermometer
Temporal Thermometer: Exergen is the best temporal thermometer brands
The Exergen Temporal Scanner Thermometer is a totally non-invasive system with advanced infrared technology providing maximum ease of use with quick, consistently accurate measurements. Advanced, patented technology measures temperatures with a gentle stroke across the forehead.
The Temporal Scanner Thermometer has been clinically tested for accuracy compared to rectal thermometers and temperature sensors inserted in the heart during the course of patient treatment and accepted for use in major hospitals, making it the ideal thermometer for use with newborns, infants, children or adults.
The Temporal Scanner has patented software, providing arterial heat balance. This unique process determines temperature by accurately measuring the balance between the tissues warming from arterial blood and tissues cooling (warming) caused by heat loss (gain) to the environment.

Withings temporal thermometer
Withings Smart Temporal Thermometer
Temporal thermometer: Withings is a pioneering brand in the use of smart phone applications.
The Withings Thermo is a Bluetooth- and Wi-Fi-connected smart thermometer that pairs with your phone or tablet to measure your temperature through the arteries in your forehead.
It's a fast, accurate, non-invasive way to take your temperature, and you can log symptoms and read the advice in an intuitive, well-designed companion app.
Now, a fast, simple, no-contact gesture yields medical-grade results right on the device and provides an automatic sync with the free Thermo app, available for iOS and Android. In the app, you can track temperature readings, set reminders, and input related symptoms and medications for advice right on your smartphone.
Body temperature is one of those aspects that we always look at when we start to feel slightly strange in our daily walk. It is a sign that never fails, as long as your temperature is at high or very low levels, it is faithful proof that something is wrong with our body, which is why it is necessary to use a device that allows us to accurately measure our internal temperature. to cross out doubts.
Best brand thermometer for smartphones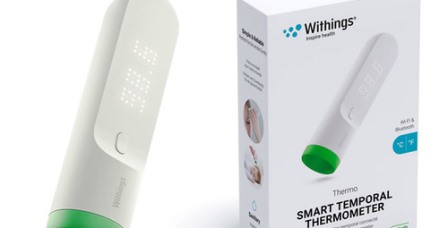 The most read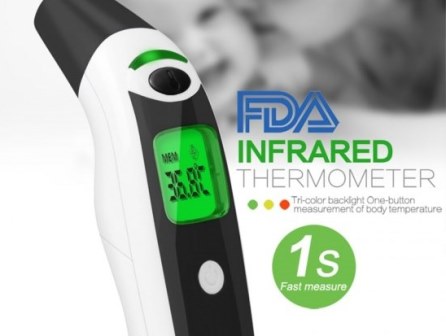 What is Top 10 Thermometer Made In the USA in 2020?
What is the best medical infrared thermometer made in the USA?
What is the best-infrared thermometer made in the USA?
All of these questions above drive you crazy every time they occur to you. We know your doubts because we used to be in this strange situation when looking for a thermometer made in the United States.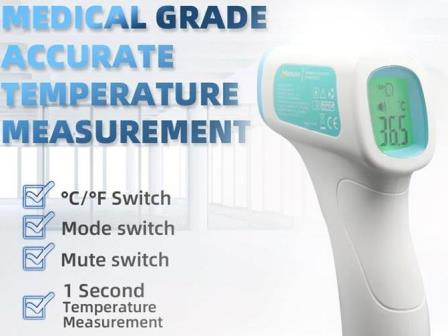 As people plan to get back into a rut, many are considering buying technologies that can detect elevated temperatures. While it is not guaranteed that it can be determined if someone has an infection, temperature detection has its benefits.
Given the ongoing debate about temperature controls and the number of solutions on the market, people will need to be familiar with the technology behind it.
More on this story