Non contact Infrared Thermometer: Measuring a person's temperature can be done in several ways. One method to measure a person's surface temperature is with the use of non-contact infrared thermometers.
Non contact Infrared Thermometer may be used to reduce cross-contamination risk and minimize the risk of spreading disease. While typically 98.6°F is considered a "normal" temperature, some studies have shown that "normal" body temperature can be within a wide range, from 97°F to 99°F.
Before NCITs are used, it is important to understand the benefits, limitations, and proper use of these thermometers. Improper use of NCITs may lead to inaccurate measurements of temperature.
Benefits of Non-contact Infrared Thermometer

The non-contact approach may reduce the risk of spreading disease between people being evaluated
Easy to use
Easy to clean and disinfect
Measures temperature and displays a reading rapidly
Provides the ability to retake a temperature quickly
Limitations of Non-contact Infrared Thermometer

How and where the Non-contact Infrared Thermometer is used may affect the measurement (for example, head covers, environment, positioning on forehead).
The close distance required to properly take a person's temperature represents a risk of spreading disease between the person using the device and the person being evaluated.
List of the non contact Infrared Thermometer:

Linktemp non-contact infrared thermometer
Berrcom non-contact infrared thermometer
Braun non contact infrared thermometer
Medsource non-contact infrared thermometer
Iproven non contact thermometer
Exergen non contact thermometers
Vicks thermometer for babies
Ankovo thermometer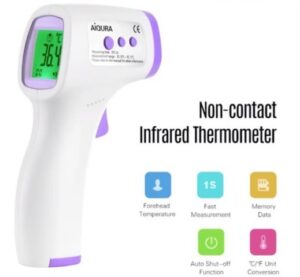 Non contact infrared thermometer medical
The medical thermometer is the world's first non-contact device with Touch-Free technology developed by the team that invented tympanic thermometry!
The professional thermometer is a clinical-grade infrared thermometer for the measurement of forehead temperature in adults, children, and infants without contact.
It is designed for use in a wide variation of medical settings and can also deliver ambient/skin surface temperatures with the flick of a switch.
Linktemp non-contact infrared thermometer
LinkTemp non-contact infrared thermometer provides an instant and accurate way for clinicians to take a temperature without contact in a multi-patient environment were efficacy, accuracy and efficiency matter every day.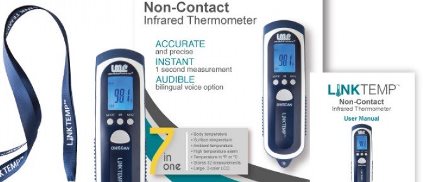 Berrcom non-contact infrared thermometer
BERRCOM Non-Contact Digital Infrared Thermometer uses state of the art non-contact infrared technology to measure body temperature. With a one-button operation and accurate results in just one second, you can quickly and easily measure body temperature as well as the temperature of surfaces and objects around the home.
Non-contact technology enables accurate readings by placing the probe near the forehead so there is no need to disturb or wake the individual when monitoring their temperature.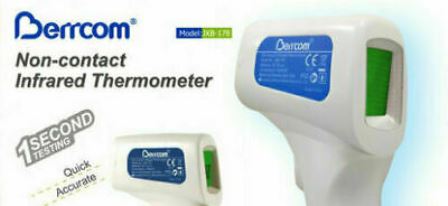 Non contact infrared thermometer fda approved
The FDA approved devices can be used by consumers in home settings and doctors and nurses in a clinical setting.
The FDA approved Non-Contact Infrared Thermometers, give you the ability to take a body temperature while never touching the patient. Each one features an audible alarm that will sound when a high temperature is detected.
Braun non contact infrared thermometer
The Braun thermometer offers clinically proven quick, precise, and accurate readings without struggle or hassle from invasive thermometers. The color-coded screen changes from green to yellow to red, depending on the temperature reading and unique on-screen positioning systems confirm proper distance for taking temperature and gentle guidance light directs you for accurate aiming. This non-contact thermometer is safe and hygienic with no need for expensive replacement probe covers.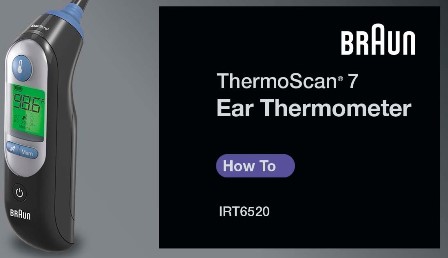 Medsource non-contact infrared thermometer
Medsource ir-300 infrared thermometer
The MedSource Infrared Non-Contact thermometer is specially designed to take a human body temperature while never touching the patient. It uses an infrared detection system and displays temperature in Celsius and Fahrenheit on a backlit screen.
They can detect surface and ambient temperatures in addition to body temps. These thermometers also display readings in either Celsius or Fahrenheit. They are intended to measure human body temperature on the forehead by consumers in a home setting and primary care settings as a screening tool.

Non-contact forehead thermometer
Temporal artery thermometers often sold as forehead thermometers, use an infrared scanner to measure the temperature of the temporal artery in the forehead. Temporal artery thermometers can record a person's temperature quickly and are easily tolerated.
You can take a temperature using the artery (forehead). But the temperature readings vary depending on which one you use, and you need an accurate body temperature to determine if a fever is present.
Iproven non contact thermometer
Iproven non contact thermometer nct-978
With iProven's Infrared Non-contact Medical Thermometer, you make temperature checking comfortable for your sick family member. The thermometer allows you to check the temperature with unmatched accuracy at a distance of 0.4 to 2 inches.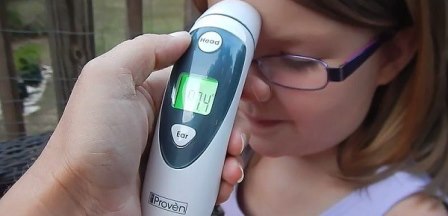 Exergen non contact thermometers
Exergen temporal scanner tat-5000
The TemporalScanner Thermometer is a totally non-invasive system with advanced infrared technology providing maximum ease of use with quick, consistently accurate measurements. Advanced, patented technology measures temperatures with a gentle stroke across the forehead.
The TemporalScanner Thermometer has been clinically tested for accuracy making it the ideal thermometer for use with newborns, infants, children, or adults.

Non contact thermometer for babies
Keep a non-contact thermometer handy to take baby's temperature, and you'll be able to truly determine if your child needs a dose of medication, to see the pediatrician, or just watchful waiting.
Baby thermometers basically fall into these three basic types:
Digital thermometers: Digital thermometers take a minute or less to record the temperature.
Ear thermometers: Quick and generally comfortable, ear thermometers measure the temperature inside the ear and are safe to use on babies six months and older.
Forehead thermometers: More accurately known as temporal artery thermometers, these thermometers are swiped across the forehead to read the temperature of the major vein located there.
Vicks thermometer for babies
The Vicks Forehead Thermometer is quick and easy to use. How the Vicks Forehead Thermometer measures temperature?
The Vicks Forehead Thermometer measures infrared energy emitted from the skin above the eyebrow area and the surrounding tissue. This energy is collected through the lens and converted to a temperature value. The temperature reading is obtained by scanning above the eyebrow area which provides the greatest accuracy.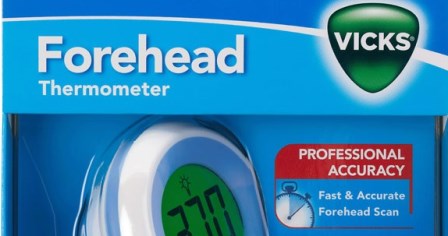 Ankovo thermometer
ANKOVO digital medical infrared forehead and ear thermometer, good safety, easy operation, 1-second quick measurement for baby, kids, and adults.
Instant, accurate readings:

This device ensures accurate results and using advanced infrared technology, the body temperature is detected and displayed in one second.
Ergonomically designed, the forehead thermometer takes the guesswork out of placement with the gently angled forehead probe and lens for reliable results every time.

Fast, Gentle, and Easy to Use:

ANKOVO digital thermometer is designed to take the body temperature of your family in a fast, gentle, and easy to use way and easy to read backlight display.
This fever thermometer is a perfect device for adults and kids.
This device ensures accurate results and infrared technology that takes the temperature in a few seconds.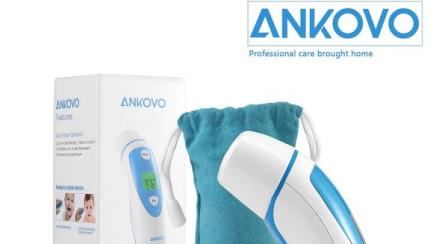 Best non contact Infrared Thermometer
The non contact forehead thermometer offers instant, accurate temperatures, and easy-to-use features that professionals have asked for:
Proven accuracy: documented clinical precision in a wide range of medical settings.
Increased efficiency: eliminates probe-cover costs and storage/transport logistics, reduces the time for vital-signs, available without cart/trolley; no charger-base required.
Ease of use: simple positioning, one-button operation, improved patient cooperation, bright backlit display.
Non-contact: delivers improved hygiene with reduced risk of cross-contamination and no probe-covers required, minimizes the risk of operator error, provides immediate access to a measurement site, no patient disturbance.
Instant results: measurement in 1-2 seconds, reliable and repeatable.
Multy-task capability: also measures room temp, skin/surface temp with the flick of a switch; Celsius/Fahrenheit switchable with a touch.
Are all infrared thermometers non contact?
Yes, Infrared Thermometer can be used for measuring the temperature of the forehead or by placing it outside the ear but they can not be used by directly having contact with the skin.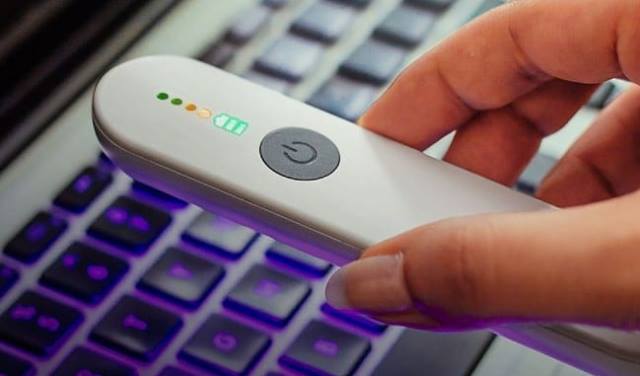 The most read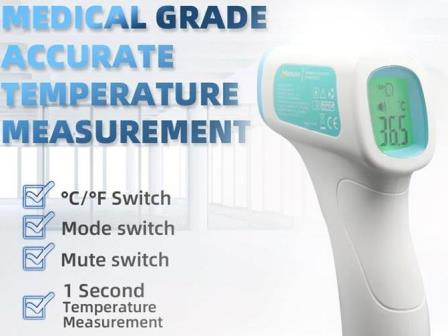 As people plan to get back into a rut, many are considering buying technologies that can detect elevated temperatures. While it is not guaranteed that it can be determined if someone has an infection, temperature detection has its benefits.
Given the ongoing debate about temperature controls and the number of solutions on the market, people will need to be familiar with the technology behind it.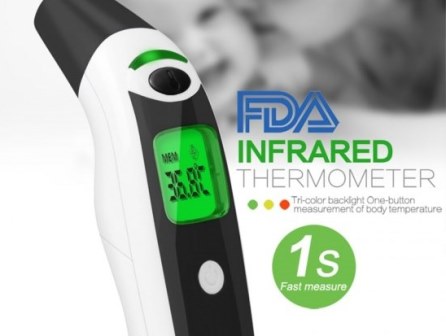 What is Top 10 Thermometer Made In the USA in 2020?
What is the best medical infrared thermometer made in the USA?
What is the best-infrared thermometer made in the USA?
All of these questions above drive you crazy every time they occur to you. We know your doubts because we used to be in this strange situation when looking for a thermometer made in the United States.
More on this story