Overhead Crane Types: Overhead travelling cranes, designed for handling loads up to 120 tonnes, are the ideal solution for heavy lifting and wide spans. The overhead travelling crane range includes four series designed for different applications and operating conditions: single girder, double girder, underslung and single girder wall travelling cranes.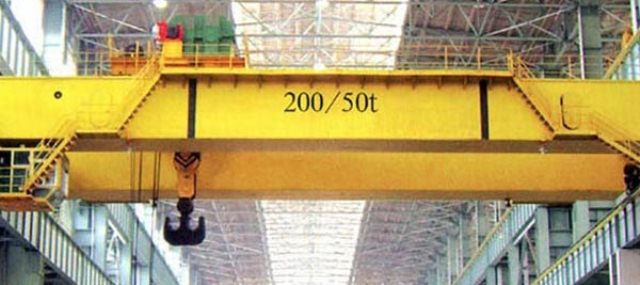 Overhead bridge crane
Overhead crane types: Material handling is a vital component of any manufacturing system and the material handling industry is consequently active, dynamic, and competitive.
A crane is a mechanical lifting device equipped with a rope drum, wire rope, and sheaves that are used both to lift and lower materials and to move them horizontally.
It uses simple machines to create mechanical advantage which helps to move loads beyond the normal capability of a human. Cranes are commonly used in the transport industry, in the construction industry, and in the manufacturing industry.
The overhead cranes handle and transfer heavy loads from one position to another. Electric overhead travelling cranes are widely used in many industries for lifting the safe working load.
The escalating price of structural material is a global problem. Many small scale industries purchase the existing electric overhead cranes from bigger industries and make the required modification to suit their requirement.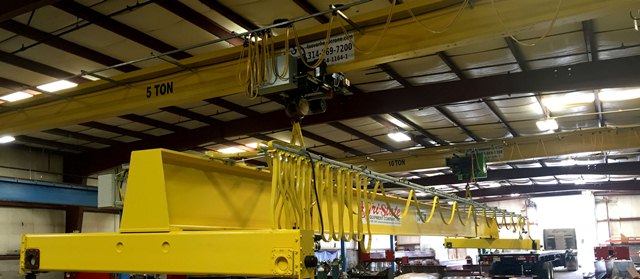 Overhead crane types
Overhead crane types:
Various types of overhead cranes are used in industries with many being highly specialized. Various types of overhead cranes are single girder cranes, double girder cranes, gantry cranes, and monorails.
Single Girder Crane
The crane consists of a single bridge girder supported on two end trucks. It has a trolley hoist mechanism that runs on the bottom flange of the bridge girder.
Double Girder Crane
The crane consists of two bridge girders supported on two end trucks (end carriages). The trolley runs on rails on the top of the bridge girders. Double girder electric overhead cranes are widely used in the industries because they can carry more loads with more span than any other type of crane. In this project, we are concentrating mainly on double girder electric overhead cranes.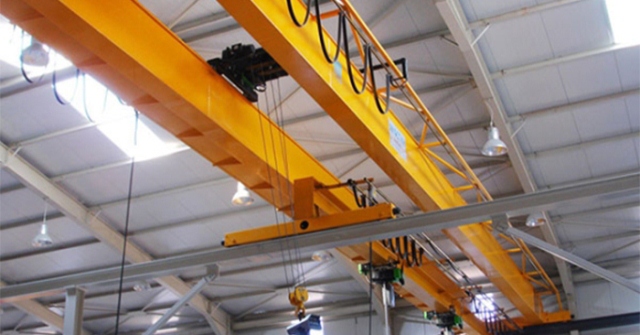 Gantry Cranes
These cranes are essentially the same as the regular overhead cranes except that the bridge for carrying the trollies or trolleys is rigidly supported on two or more legs running on fixed rails or other runways. These "legs" eliminate the supporting runway and column system and connect to end trucks which run on a rail either embedded in or laid on top of, the floor.
Monorail cranes
For some applications such as production assembly line or service line, only a trolley hoist is required. The hoisting mechanism is similar to a single girder crane with a difference that the crane doesn't have a movable bridge and the hoisting trolley runs on a fixed girder. Monorailbeams are usually I-beams (tapered beam flanges).
Monorail or repair trolley cranes are used for maintenance purpose.
For maintenance of any single or double girder crane, the crane which is to be taken for maintenance is brought under the repaired trolley (monorail) crane so that it can lift the components of the crane for repair or replacement.
EOT Crane
The EOT in EOT Cranes stands for "Electric Overhead Travelling". These types of overhead cranes are stationary and allow for lateral movement across two planes. Not only do they move backward and forwards but can also move up and down with the load. These cranes are perfect for indoor work.
Factories, assembly lines, big warehouses, mining corporations, etc. can make good use of EOT cranes. Low maintenance and easy to operate make these cranes a good investment, especially if you have trained operators and experience the frequent need for heavy load lifting. The only thing to keep in mind is that they are not to be used in explosive and corrosive environments.
HOT Crane
Here, the HOT in HOT Cranes stands for Hoist One Track. HOTs are a stationary overhead crane and allow for lateral movement across two planes as well. They are less common as compared to EOT crane as they do not allow for as much movement as the EOT cranes.
They are more commonly used for maintenance purposes. They have a hoist attached to the bridge which can be operated using an electric pendant. They are low maintenance and a sound investment if you frequently need a lot of maintenance and repair in your enterprise.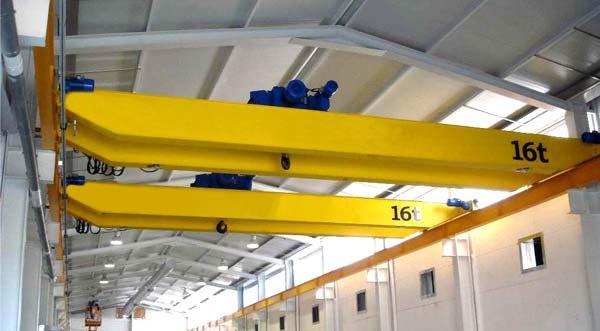 Top running overhead crane
Overhead crane types: Top running vs. under running cranes
When it comes to defining clear differences between bridge cranes, you will want to consider if you require a top running or under the running crane.
On a top running crane, the bridge runs on rails along the top of the runway beams.
On an under running, or underhung crane, the bridges are supported by the bottom of the runway beams and the wheels run along the bottom of the lower beam flange.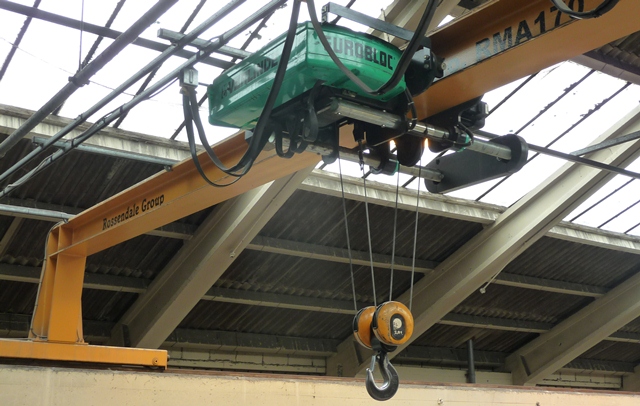 Top Running Crane
These cranes have no limiting capacity, meaning they can be built to go from small capacities to very large capacities. They include a rail installed on top of each runway, and the bridge wheels move on the rail instead of the bottom flange of the runway beam. These cranes are supported by the building structure or runway support columns, or sister columns, and are ideal for moving extremely heavy loads.
Under Running Crane
often called "underhung," because the crane wheels are supported by the bottom flange of the crane runway beams acting as the crane rail. These types of cranes can allow you to maximize your facility's floor space for production and storage of material because they are supported from the ceiling trusses or the roof structure. Or, they can be designed to utilize an existing support structure (if adequate), or run on a newly-engineered support structure.
Electric overhead crane
Overhead crane types: Electric overhead crane comparison:
Based on Safe Working Load: Double girder cranes can lift the loads up to 500Tcapacity. Single girder cranes are suitable for the low safe working load. Because of extra girder in double girder cranes load distributed in two girders and hence double girder cranes can carry safer working load than single girder cranes.
Based on Span: For longer span, the double girder cranes are used whereas single girder cranes are useful for smaller span.
Based on Application: Double girder cranes are efficient for intensive use. Because of the rigidity of the structure, they are used in extreme conditions like lifting the molten metals. Single girder cranes are used for irregular and light use. They are used in small workshops, storage area, etc.
Based on Long Travel Speed: The single girder cranes are suitable for lower long travel speed whereas the double girder cranes can run with higher long travel speed.
Based on Cost: In general, the single girder cranes are less costly than the double girder cranes. Double girder cranes consist of more walkways, other accessories which add the cost. Single girder cranes cost less in many ways, only one cross girder is required, the trolley is simpler and installation is quicker.
Overhead bridge crane types
What is overhead crane used for?
To move extremely heavy or bulky loads through the overhead space in a facility, instead of through aisles or on the floor, an overhead crane (also called an industrial crane, crane, or overhead traveling crane is a machine that lifts, lowers and moves a load horizontally.
How does EOT crane work?
EOT Crane Working Principle system consists of three working movements: crane hook up and down lifting, trolley lateral movement and crane long traveling longitudinal motion.
What is the difference between a gantry crane and overhead crane?
A gantry crane is slightly different from a bridge crane. The general premise is the same, but the operation is different. Some gantry cranes ride along a track installed on the floor or use a V-groove caster to keep moving in a straight line. Gantry cranes are usually less expensive than an overhead bridge crane.
What is single girder EOT crane?
EOT (Electronic overhead traveling) crane is an essential industrial equipment involved in material handling job. Overhead EOT single girder cranes are used to lift the objects by a hoist fitted in a trolley. It comes under standard crane types.
More on this story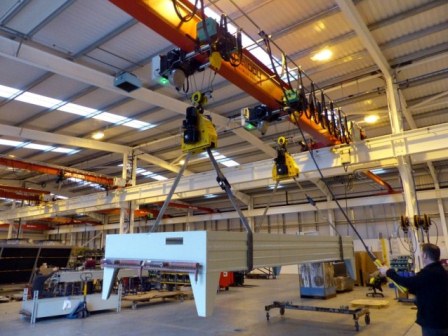 Overhead Crane Parts: components, parts, technical specifications, maintenance of traveling industrial cranes, aircraft, hoists, winches, etc.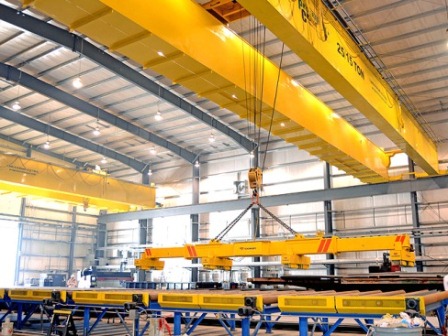 Overhead Crane Design: Frequently used in industrial environments, overhead bridge cranes offer reliable stability and efficiency for managing loads or various capacities in loads of various capacities capable of lifting extremely heavy loads.
The most read
.
.
.
Summary
Article Name
Description
OVERHEAD CRANE TYPES: overhead travelling bridge crane, Single Girder Crane, Double Girder Crane, Gantry Cranes, EOT Crane, Monorail cranes, HOT Crane