Warehouse storage racks – Types of racks in warehouse: Racking is much more than just steel. Racking is the key to optimum throughput efficiency because the efficiency of the entire material flow is optimized only through the requirement-specific design of a racking system.
The keys to designing: warehouse Racking systems, mezzanines, and self-supporting stores (silos). For the warehouse storage of pallets, containers, and stillages – for cartons or long goods – offers you the complete solution: comprehensive warehouse planning that sees racking and trucks/rack servicing cranes as one system working "hand in hand". From initial planning and projecting up to hand over.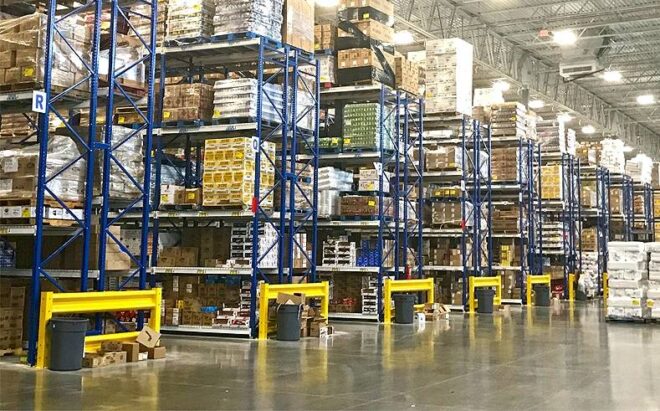 Warehouse Storage Racks types
The options seem endless when looking to outfit your office, industrial business, or warehouse. Based on your specific industry, your needs will be drastically different. For a business that requires massive amounts of space and moves many thousands of units per day, you can't allow poor warehouse shelving options to hold your business back.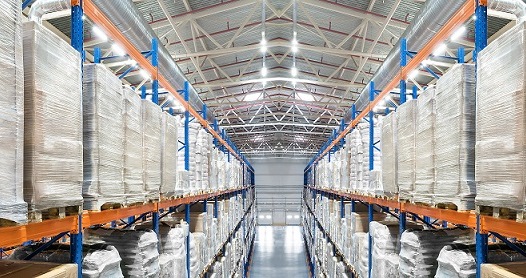 Adjustable pallet racking
The classic among racking systems
Adjustable pallet racking is the most common racking system. In contrast to single position racking, it carries several pallets between two uprights on every level. In the standard design, it reaches heights of 8 to 10 m and it can also be raised to high racks with 12 m height and in automatic operation up to 30 m height.
Adjustable pallet racking is particularly suitable for large quantities of individual, mainly palletized articles. In contrast to block stacking, there is no contact between pallets which allows direct access to all pallets. Easy adjustment of racking levels ensures optimum warehouse storage utilization. Double-deep storage can also be realized.
The racking is loaded in the same way as single position racking with forklift trucks or rack servicing cranes. Lengthways storage and retrieval are also possible by utilizing narrow aisle trucks. This would reduce the aisle width required.
Advantages

Direct access to all articles
Available for manual/automatic rack servicing
Random storage position allocation
Narrow aisles racking
The racking giant: Adjustable pallet racking for narrow aisles
Narrow aisle systems are the giants among multi-position racking systems. They have the performance characteristics of multi-position racking (see pages 10/11) at heights over 10 m and are free-standing. Reduced requirement for working aisles and extremely high lift heights are their distinguishing features.
Narrow aisle systems are used specifically where:
a) space is limited an
b) it is necessary to increase throughput compared with multi-position racking.
Here, narrow-aisle stackers (rail or inductive guidance with the choice of automatic height selection) or rack servicing cranes (RBG) are utilized.
High rack stackers (rail or inductively guided) with automatic height selection or rack servicing cranes take on stacking and retrieval operations.
Availability is ensured by cantilever arms at the head of the racking aisles, high racks are freestanding. They are not a permanent part of the building and thus extremely adaptable during a possible reorganization.
Advantages

Excellent space utilization
High throughput performance
Low working aisle widths
Gradual upgrading possibilities up to the fully automatic operation
Single-sided cantilever racking
Optimum space utilization especially for box pallets: Single position racking
Single position racking carries one load unit per bay between two uprights on every level. Angle profiles arranged in-depth direction take on the shelf function – additional space is gained through the omission of beams.
Single position racking is particularly suitable for storing ranges with large quantities per article and heavy goods. With the accessible arrangement of load units, single position racking is always advantageous when orders are picked straight from the pallet or box pallet.
The operation of single position racking can be either manual or automatic – using either stackers or rack servicing cranes. Due to low shelf heights, the stacking process is particularly speedy and safe. Compared with block-stacking, direct access to all load units and safe stacking up to height is an advantage.
Advantages

Direct access to all articles
Available for manual or automatic rack servicing
Random storage space allocation
Operator-friendly order picking
High rack storage
Storage in all dimensions: High rack silo (Clad rack)
Clad rack silos are racking constructions to which roof and walls are fixed. The stores are automatically controlled and reach heights up to 40 m. The silo design provides the shortest construction times and offers interesting depreciation opportunities.
High rack silos are used for storing large quantities of high throughput articles.
The racking system is operated with automatic rack servicing cranes. Rack servicing cranes ensure operation up to a height of 40 m. They can transfer freely from one aisle to the next. Their curve-going ability linked with the Europe-wide patented points system is at the heart of aisle transfers. This system facilitates safe and fast aisle transfer effortlessly.
Advantages

Heights up to 40 m achievable
The utilization of storage space to full height
Reduction in the use of conventional buildings
Reduced construction time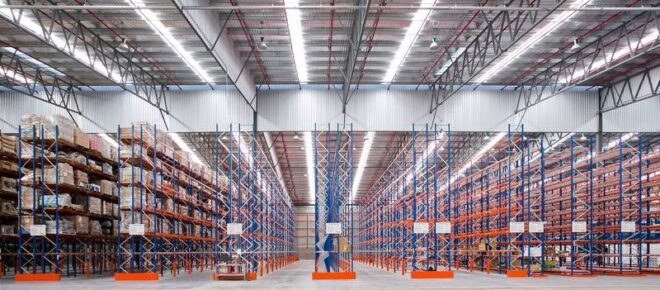 Mobile racking storage systems
Optimum space utilization with variable working aisles.
Mobile racking is mounted on motorized mobile bases. This facilitates the opening of a racking aisle at any position of the system.
Mobile racking saves working aisles and created warehouse storage space (up to 90 % compared with traditional racking). It nonetheless provides access to every load unit. Mobile racking is particularly suitable for medium quantities of goods and a medium number of different articles with low access requirements.
Mobile racking is serviced by trucks in individual aisles. Racking aisles can be controlled locally from an individual rack or by remote control. Photoelectric safety barriers at both racking fronts activate an emergency stop as soon as they hit an obstacle.
Advantages

Saving of up to 90 % racking aisles
Better space utilization
Single position access
Pallet live storage
Excellent space utilisation for Fifo method.
Pallet live storage consists of racking uprights forming a channel. Warehouse Storage is carried out on one side and retrieval on the other side of the racking. As soon as a pallet is retrieved, the other pallets move up automatically to the retrieval position on inclined roller conveyors. Brake rollers keep gravity under control and an automatic separating device ensures that the pallet at the front is never under impact pressure from the following pallet. Automatically driven roller beds in the channel are optionally available.
Pallet live storage is suitable for large quantities of the same articles. In keeping with the Fifo method, they ensure that goods are rotated effectively.
Warehouse Storage typically in lengthways direction with forklift trucks or also with support arm stackers.
Advantages

Optimized filling ratio
Optimized space utilization
Push back racking
Excellent space utilisation for Lifo method.
Characteristics: Push-back racking consists of racking uprights forming a channel. The conveyor's slope between 3 and 5 %. Deposit and retrieval in this system are carried out on the same racking side. If there are already load units in one of the channels, the new load unit has to push the one previously deposited against the slope. Pallets already in the channel move up automatically when a pallet is retrieved. There are typically three pallets one behind the other in the channel.
Application: Push-back racking is suitable for storing medium quantities of the same articles.
Operation: Operated by forklift trucks as well as support-wheel stackers.
Advantages

Optimized filling ratio
Optimized space utilization
Drive-in/drive-through racking
Compact warehouse storage system.
Characteristics: With drive-in/drive-through racking several load units are stored behind each other in the rack on two pallet support bars (pallet rails). A loading/unloading cycle per racking lane from the top to the bottom (or the other way round) must be observed during depositing and retrieval. The trucks can drive into the racking lanes.
With drive-in racking, rack servicing is only possible from one side (Lifo method). With drive-through racking, in contrast, depositing can be carried out from one side and at the same time retrieval from the other side (Fifo method). Compared with drive-in racking, throughput is, therefore, higher with drive-through racking.
Application: Drive-in and drive-through racking are optimally suitable for storing goods with a low variety of articles. The racking system combines the advantages of block stacking and rack stacking: compact space utilization at height and careful warehouse storage of goods.
Operation: Before entering the aisle, the truck lifts the pallet to the required racking level. The truck must not be wider than the pallet. Sideways seat stackers are particularly suitable as they provide the operator with unobstructed visibility also during reverse travel.
Advantages

Excellent space utilization
Easy to expand
Particularly suitable for the warehouse storage of seasonal goods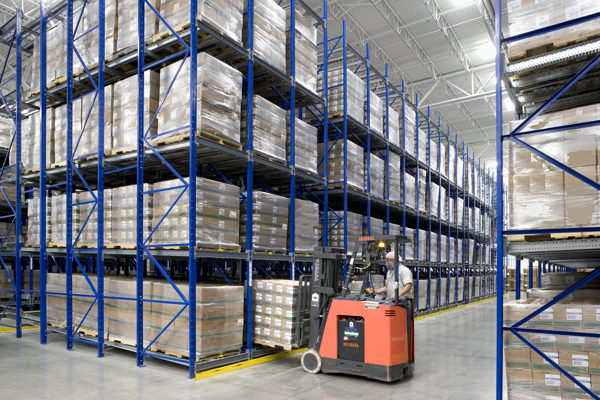 Shuttle racking
Deep – Compact – Efficient: Shuttle compact warehouse systems
Features: Pallet carriers that can travel autonomously in pallet channels lie at the heart of shuttle compact warehouse storage systems. They are part of a complete solution, consisting of channel racking, carrier truck, and carrier modules.
The unique thing about shuttle systems is that they are designed both to go under pallets (Under Pallet Carriers, UPCs) and enter pallets (In Pallet Carriers, IPCs). With shuttle systems, you can have fewer aisles and more pallet space over the same surface area, and therefore more efficient cube utilization (in particular with different articles).
The application areas are the same as for drive-in and drive-through racks (see page 24/25). However, they have the added advantages in that the shuttle system throughput is greater and that you only have to store one type of article per channel. This enhances cube utilization significantly.
The system is designed not only for a large but also for a medium number of items with medium to large distances between them. Typical application fields include cold stores, production buffer stores, picking replenishment stores, and the transporting service sector as a whole.
Pallet shuttle automation
In Pallet Carrier (IPC) operation: High throughput levels with frequent channel changes (e.g. due to a small number of pallets per item, shorter channels, combined orders from various articles, or replenishment in picking tunnel systems). Pallets are raised by the carrier truck directly with the IPC and used together in the channel. Stacking can then begin immediately.
Under Pallet Carrier (UPC) operation: High throughput levels with frequent channel emptying/filling (e.g. due to a greater number of pallets per item, longer channels, or combined orders for largely the same items). Pallets are deposited by the carrier truck onto a UPC on the channel. During the carrier journey, the truck driver can fetch another pallet and deposit it at the start of the channel. The next stacking operation can therefore already begin. Retrieval is carried out in the same way.
Advantage

Excellent surface area and cube utilization
High throughput levels
Load-saving handling
Two carrier types for different applications
Lifo (last in first out) and Fifo (first in first out) can be performed with both types
Different pallet types can be used in the same racking system
Ideally suited to trucks and racking systems through an individual interface and optimum residual capacity utilization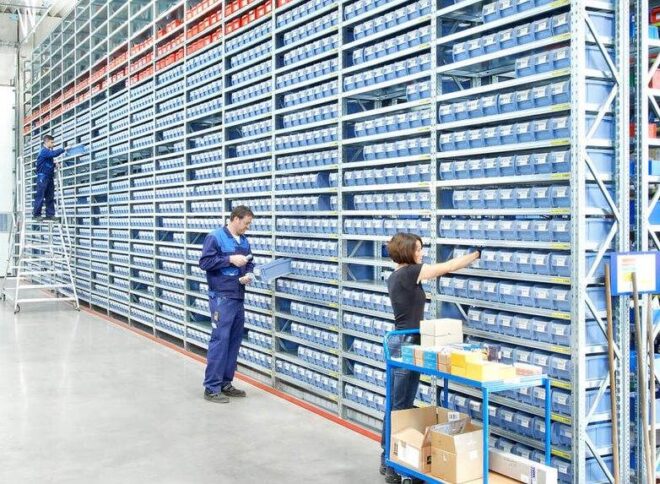 The most read
More on this story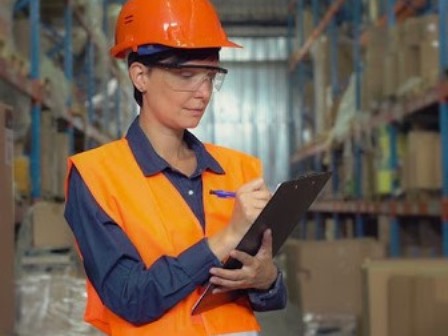 Few warehouse operators have aggressive in-house rack inspection programs in place. Forklift accidents, collisions, dropped or misplaced loads, and other incidents that result in rack damage may or may not get promptly reported.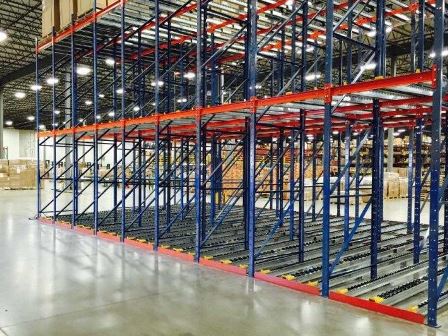 Pallet racking is a material handling storage rack system designed to store products and materials on pallets in horizontal rows and on multiple levels. Most warehouses prefer using pallet racking systems to maximize the storage space they have available.