Different types of storage – warehouse storage solutions: There are a number of warehouse storage solutions out there, and while a couple of these may 'work' for your operation, there's likely one that is the most beneficial. Identifying and utilizing this ideal storage solution will ensure optimized density and selectivity, increasing efficiency, and ultimately profits.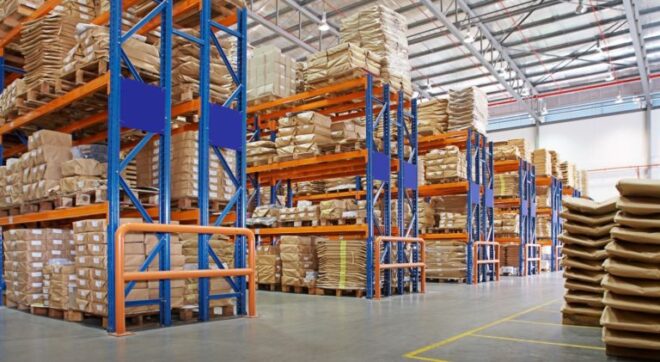 Automated Warehouse Storage Solutions
Automated Warehouse Storage Solutions: As space gets more confined and labor costs continue to rise, storage solutions are necessary for the automated you need to optimize warehousing operations in the years ahead.
Today's modern warehousing systems are required to process increasingly complex tasks and provide reliability and flexibility for future needs. The high-density increase warehouse efficiency by:
Maximizing available storage space in existing structures, avoiding off-site storage and expansions
Minimizing overall building footprint up to 50% versus conventional warehouses
Reducing energy costs by 40% in cooler environments
Reducing labor and product damage costs
Increasing inventory accuracy and customer service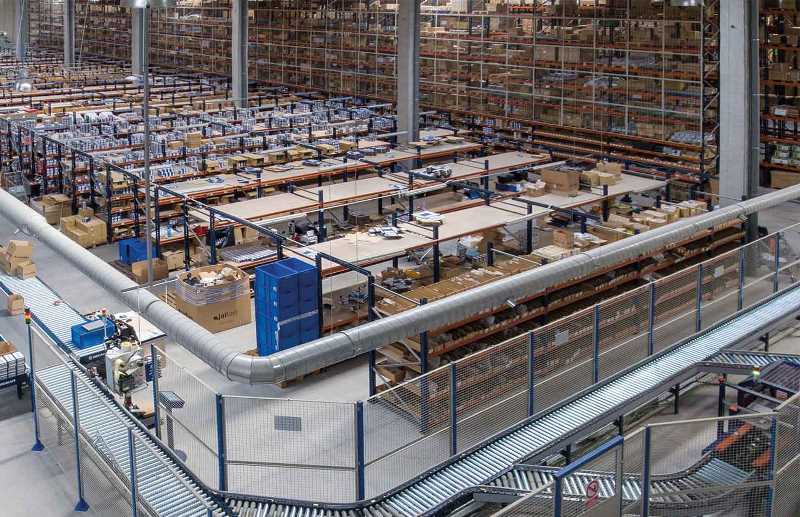 Shelving for storage and order picking
Optimum access to any article.
Characteristics: Shelving over multiple levels made of steel plate or wood is used for storage. Shelving is available as a slot together or bolted style. It is also suitable for high rack installations over 12 m high.
Storage application: Shelving facilitates the storage of goods with large articles ranges in small to medium quantities. The racking can be universally utilized in all industry branches for small parts but also for bulky parts.
Order picking application: When making goods available – according to the "man to goods" principle – attention must be paid to goods being directly available for the order picker. The order picking racking provides the best preconditions for this. Flexible in the application and easily adjustable, it is particularly suitable for large volume, bulky goods, and containers. Order picking by hand is easier, picking times are reduced.
Operation: By hand, with horizontal/vertical order pickers or rack servicing cranes (RBG).
Advantages

Immediate access to all articles
Flexible and expandable
Easy to assemble
Drive-through racking for small parts
The solution for Fifo
Characteristics: Drive-through racking works according to the Fifo method for small parts or packages of any size. Roller conveyors ensure that stored goods move forward automatically to the retrieval point. This strict adherence to sequence ensures that nothing gets out of date in drive-through racking. This extremely compact form of storage ensures very short order picking distances. Clear demarcation also helps avoid errors.
Application: Drive-through racking is mainly utilized for order picking work. Roller conveyors can also be retrofitted in any standard racking and they are also available for cold stores. A pick-by-light solution can also be integrated into drive-through racking.
Operation: The racking is operated manually or with horizontal or vertical order pickers. Order picking platforms are inserted in multistorey installations.
Advantages

Fewer working aisles
Continuous reserve zones
Separate depositing and retrieval
Retrofitting possible
Fifo method
Automatic small parts storage (mini-load)
Top performance in warehouses
Characteristics: Automatic small parts storage ensures excellent space-saving storage of small parts in containers, stillages, or cartons. These are stored on angled supports – with full utilization of room height.
Application: AKL mainly serves for the storage of small parts with a large number of articles in limited unit numbers per article and with high throughput requirements.
Operation: Depositing and retrieval are carried out with automated rack servicing cranes.
Advantages

Short picking times
High throughput performance
Optimum space utilization
Direct access to every article
Warehouse storage options
Long goods storage and platforms
One of the first steps that must be taken in order to craft a warehouse that's functional and organized is to select your storage system (or systems).
Naturally, this is not a choice that should be taken lightly; warehouse storage systems are a major capital investment that, depending on the design and the way they fit into your warehouse floor plan and processes, can either help or hurt your throughput.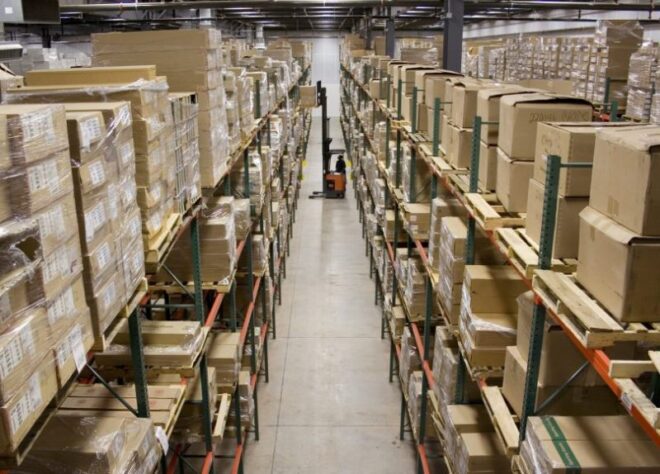 Cantilever racking
For long goods of any type
Characteristics: There is practically no limit to the length of the cantilever arm racking. This racking for the storage of long goods such as poles, pipes, and boards. Each racking upright is equipped with several cantilever arms (supports) for carrying the load. The distance between uprights depends on the weight of the goods to be stored.
Application: Goods that are heavy and small to large quantities per article at medium throughput are stored on cantilever arms.
Operation: The racking is serviced by forklift trucks such as multiway reach trucks. They work without turning in the aisle and therefore only require very narrow aisle widths.
Advantages

Extendable to any length and expandable
Flexible adjustment to changes in the range of goods
Mezzanine platforms
Additional storage space in existing buildings
Characteristics: The mezzanine platform is a self-supporting walk-on steel construction. It is erected in an existing building.
Application: Mezzanine platforms create additional storage areas on the platform itself and at the same time room underneath – e.g. for production. Compared with integral mezzanine floors, racking platforms offer many individual design options. For instance, they can also be used as order picking platforms.
Operation: Mezzanine platforms can be designed so that not only hand pallet trucks but also electric forklift trucks can work on them. Forklift trucks or conveyors take care of the material flow from ground level to the platform. Personnel access is provided by stairs.
Advantages

Extension of storage area
Efficient utilization of room height
Flexibility on/underneath the platform
Multi-tier shelving
Mezzanine platform with integral shelving
Characteristics: Dependent on the type of goods, operational capacity, and available picking time, a combination of two existing systems often provide an economic solution.
Best example: Order picking platforms, i.e. a combination of shelving and storage platform. This multi-tier construction has the main advantage of operators being able to retrieve stored goods on several levels simultaneously.
Application: Order picking platforms incorporate the upper levels into the order picking zone. The utilization of vertical order pickers is therefore not required.
Operation: Hand pallet trucks and electric forklift trucks support the order picking process. Chutes or conveyor belts take goods to the ground floor. The racking is fed from the outside with forklift trucks.
Advantages

Optimum space utilization
Short order picking routes
Racking accessories
From "upright protectors" for the protection of racking to numbering the entire racking installation, provides you with everything you require for the optimum interface of the truck and racking: signage for racking rows, racking aisles and racking positions, warning signs, information signs, directional and prohibiting signs, load guards, mesh and chipboard bases. Accessories we are unable to offer will have to be invented first!
Warehouse signs: numbering is the first step for getting a warehouse under control. Organizational numbering is also the basis for manual and IT-supported management systems.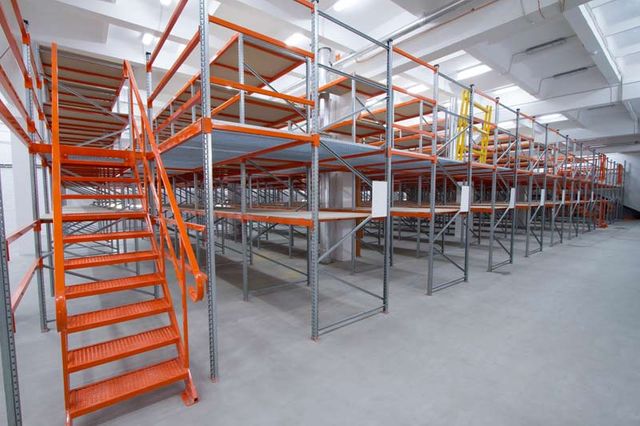 Rack inspection
Essential safety in the warehouse
For safety reasons, the owner of the warehouse is obliged to inspect or have inspected all warehouse equipment – including powered and static racks – systematically and at regular intervals, lays down the procedure and scope of these checks:
Regular checks and inspections:

Visual inspections (e.g. weekly). This can be performed by the employer's safety officer.
Detailed inspections (at least annually).

These must be performed by an expert. "Expert" means that the inspector

knows the legislation, regulations, and decrees of the trade associations as well as European standards, and
has detailed technical and static knowledge of the specific warehouse setup/rack.
In-house trained rack inspectors
Rack inspections carried out by in-house trained inspectors. Personnel with many years' experience in racking attain the title of "Industry approved rack inspector" after days of practical training in approved institutes and passing an exam.
Inspections are carried out during normal warehouse operations. In this case, the rack inspector carries out a visual inspection. The checks include:

Visually identifiable defects (e.g. bent or damaged racks)
Compliance with the manufacturer's load specifications
Compliance with regulations and safety measures
The inspection is carried out systematically on the basis of a standard inspection checklist. The inspection is then officially documented with a test plate that can be attached to each rack. This ensures efficiency and transparency for each inspection. And even after the inspection: If you discover any damage or deficiencies, the rack team can of course rectify the situation. Ensuring your rack system meets all your requirements.
The advantages of inspection

Early identification of damage and its causes
Prevent serious accidents
Prevent consequential damage
Reduce repair costs
Greater safety for man, machine and stored goods
As you can see, there is a nice range of warehouse storage systems available, and as we move into the future, warehouse storage systems are only getting more lightweight, affordable, and technologically-advanced.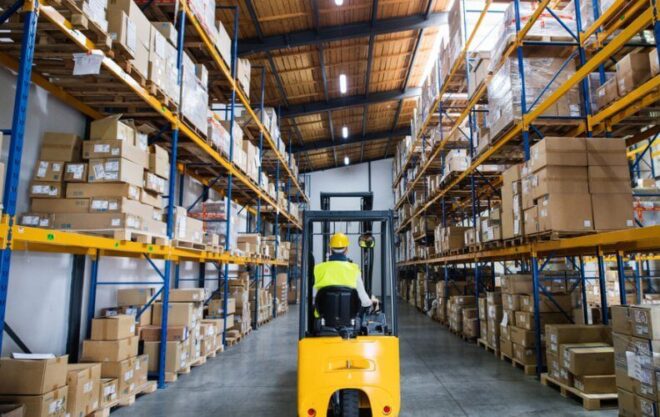 The most read
More on this story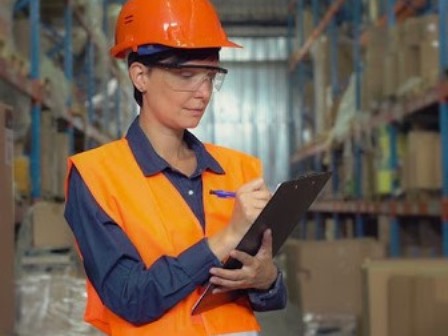 Few warehouse operators have aggressive in-house rack inspection programs in place. Forklift accidents, collisions, dropped or misplaced loads, and other incidents that result in rack damage may or may not get promptly reported.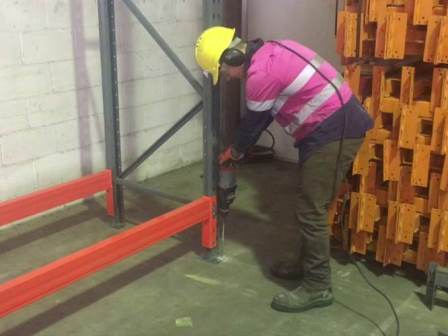 Pallet storage and pallet rack installation jobs require an experienced crew with the proper tools and equipment. Many people involved in pallet racking jobs don't really know how to install a pallet rack.